I, of course, love massive, extravagant weddings. There is something so spectacular about bringing friends and family together to celebrate one of the biggest milestones in life.
But the epic yet intimate elopements always have a special place in my heart. They're so full of sentiment and intention that every photo comes out truly captivating.
That was especially the case for Dasha and Stefano! Their vow renewal in Italy couldn't have been a more magnificent day.
Celebrating Their Marriage, 2 Years Later
These two popular Italy-based socialites are often found in the spotlight. However, for their wedding day, they celebrated in a secret, civil elopement in Como. With just their parents and close friends, the two made their union official.
Two years later, they were ready to celebrate their marriage by renewing their vows at Villa Evelina in Lake Como. And I was there to help them capture the memories!
The Villa Evelina Venue for the Intimate Vow Renewal in Italy
From Villa Sola Cabiati to Villa Erba, and every wedding villa in Lake Como in between, there are plenty of venues to choose from. But, perhaps one of the hidden gems is Villa Evelina.
Unlike venues like Villa Sola Cabiati, Villa Evelina is a quaint retreat at the heart of the lake. It may be smaller in stature, but the surroundings are equally as magnificent, if not more so. The venue made for the perfect location for such an intimate and meaningful vow renewal.
The inside of this quiet mountaintop retreat is rich with history and classic Italian charm. From the original stove to hand-painted stools, as soon as anyone walks in, they're immersed in a time long past.
It was an incredible way to escape from the real world and enjoy a smaller reality where the love between these two took center focus!
Adding to the Villa Evelina Ambience with a Custom Crafted Invitation Suite
To add to the ambience of Villa Evelina, the couple chose hand-crafted stationery from a stationer in South Africa. The artist drew inspiration from the rustic, yet elaborate setting.

As I was styling the detail photos, I incorporated elements of the villa to artfully capture the setting of their story. I sourced vintage brushes, antique keys, and even a classic cigarette case to showcase the romantic, classic Italian location.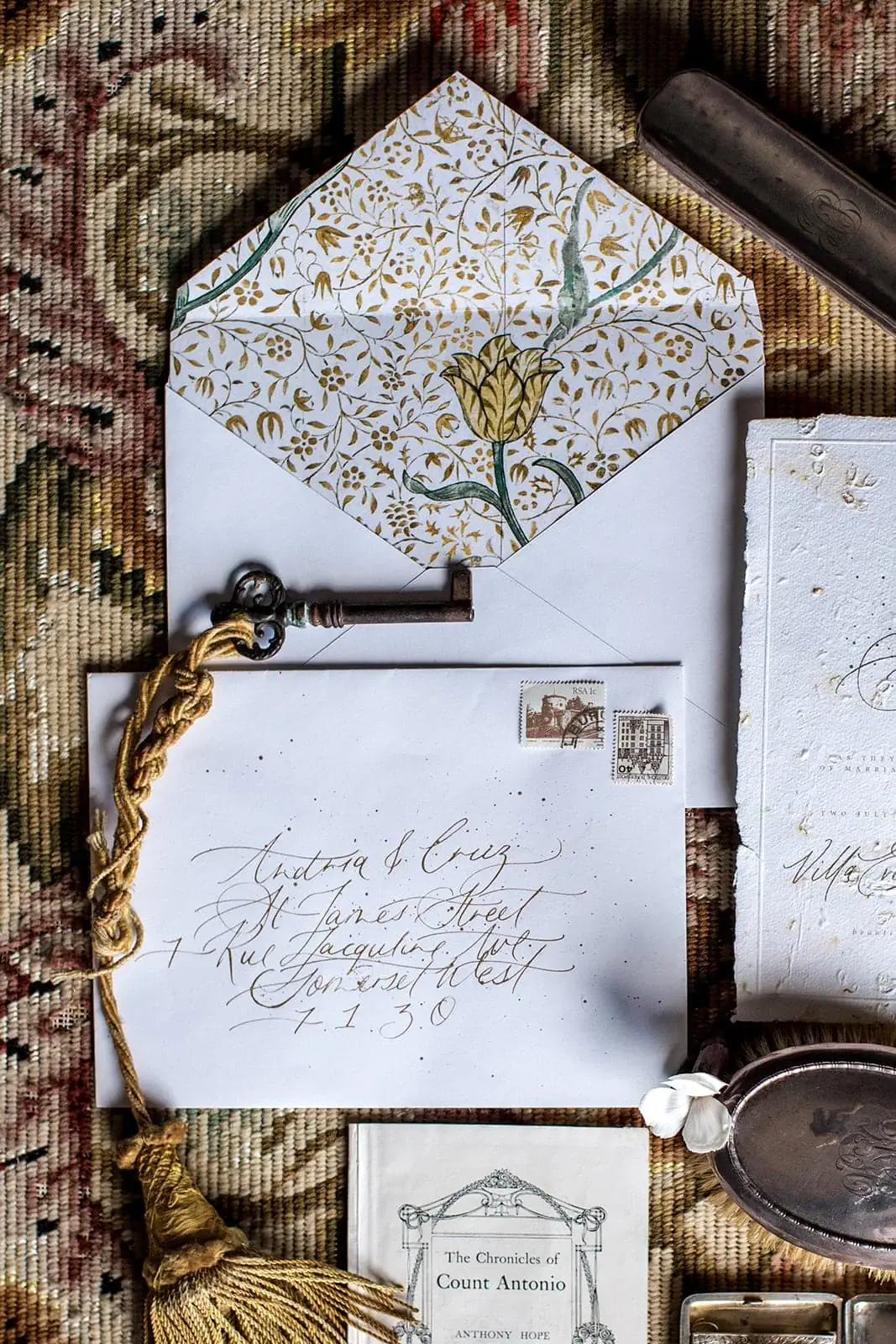 A Sentimental First Look at Villa Evelina
I always love to help couples find the best spot on the grounds for their first look. Because it's such a touching moment where full emotions can be seen and felt, I always want it to be private for them, unless they say otherwise.
Not only that but helping them find the right spot means I can ensure the lighting will be phenomenal. And by doing so, one of the most important moments of their elopement can be preserved for generations to come.
For this first look, we selected a loggia complete with traditional stone archways. It was a beautiful location that created the perfect space for such a sentimental moment.
The Boutique Bridal Gown
For their wedding vow renewal in Italy, Dasha chose a Millanova bridal gown that looked as though it were designed specifically for her in mind. It was a form-fitting dress with sheer, long sleeves. Throughout the bodice, sleeves, and the skirt was intricate beadwork. It was both subtle and captivating, all at the same time!
Bride and Groom Portraits Overlooking Lake Como
As a fashion-turned-wedding photographer, I combine the best of both worlds. On wedding days and for elopements, I love capturing candid moments exactly as they unfold throughout the day.
But for special moments, such as bridal portraits and photos of the couple, I love to let my fashion experience take over. I often drive my couples into striking a gorgeous pose to artfully create photos worthy of Vogue itself.
However, for this vow renewal in Italy, I did less directing and more focusing on clicking the camera. It was mesmerizing to watch Dasha and Stefano get lost in the moment and their emotions for one another. And the photos truly show why!
The Private Vow Renewal Ceremony and Reception
Similar to their private, civil wedding ceremony, Dasha and Stefano chose to keep the vow renewal ceremony intimate. Only a handful of guests attended their elopement, and it couldn't have been more touching because of it.
The Ceremony Site
The ceremony site was set up at the prime location of Villa Evelina. A historic stone and iron fence lined the hill right where it dropped off. Beyond it was the most incredible view of Lake Como.
Framed by mountains on either side with the bustling town below, the lake was centered behind the ceremony site.
Rather than construct an arch for the site, they chose a ground covering to not impose on the breathtaking view. A red rug with two candelabras and flower arrangements was placed right where Dasha and Stefano recited their vows.

It was the epitome of an epic destination!
A Curated Reception Surrounded by Views of Lake Como
It's one of my favorite things – when a couple falls in love with the sights of an epic location and uses it as a focal point on such a momentous occasion. With the views and the charm and allure of Villa Evelina, the reception couldn't have been more romantic.

The couple paired it with curated reception details to create a luxury experience. Every detail was intentional, from perfectly poised fresh floral arrangements and crystal glassware to buttery soft table textiles and hand designed reception menus.
This romantic, intimate vow renewal in Italy was such a pristine way to celebrate their love for one another, even two years later. I'm so grateful I was there to capture these moments for them!
Elopement Day Vendors:

Photographer: Lilly Red
Planner & Designer: Ema Giangreco Weddings
Videographer: Alberto Daria
Floral Designer: Artemisia Fioristi
Venue: Villa Evelina
Stationery: Papier.Handmade
Ribbons & Textiles: Allegoria Textiles
Groom's Attire: Cleofe Finati
Bride's Gown: Millanova
Hair & Makeup Artist: Roberta Anzaldi Makeup