When I think California-chic, I think sunshine in your hair and flowing dresses that play in the wind. I think of earth-tone colors, like burnt yellows and terracotta. And of course, I think of everything being bigger and better.
That's exactly the aesthetic that this gorgeous couple, Ashley and Terrence, had for their Villa Camilla, Lake Como wedding celebration.
A Private First Look Among Lake Como's Flora
After spending the morning getting ready, the two were ready for their first look. It's one of the more recent wedding trends that I still recommend to almost all of my couples! It's such a strategic, better use of your time on your wedding day. And that means way more photos in your wedding day gallery!
I scouted a location inside Giardini del Merlo, the botanical garden wedding venue. There was a natural backdrop of the most gorgeous, tropical flora, native to the area. And that made an epic and unique setting for Lake Como.

Since the wedding ceremony had spectacular views of the lake and the surrounding mountains, I wanted to make sure to add more variety to their wedding day gallery. So the wall of foliage was perfect.
The Fabulous Wedding Party Fashion
Being a fashion designer herself, Ashley had the wedding dress of her dreams planned for years. She designed an off-the-shoulder gown, inspired by her mother's wedding gown from the '70s. She even used that same gown from her mother as the inspiration for her entire line as the co-owner of Daughters of Simone!
Between the custom-made wedding gown, the long train of the wedding dress, the cathedral-length veil, and even the pearl-netted capes of the bridesmaids' dresses, Ashley and Terrence did make everything bigger and better when it came to the fashion of their wedding party.
Along with those stunning pearl-netted capes, the bridesmaids each wore a dress in a neutral tone that played into the California-chic aesthetic they were going for.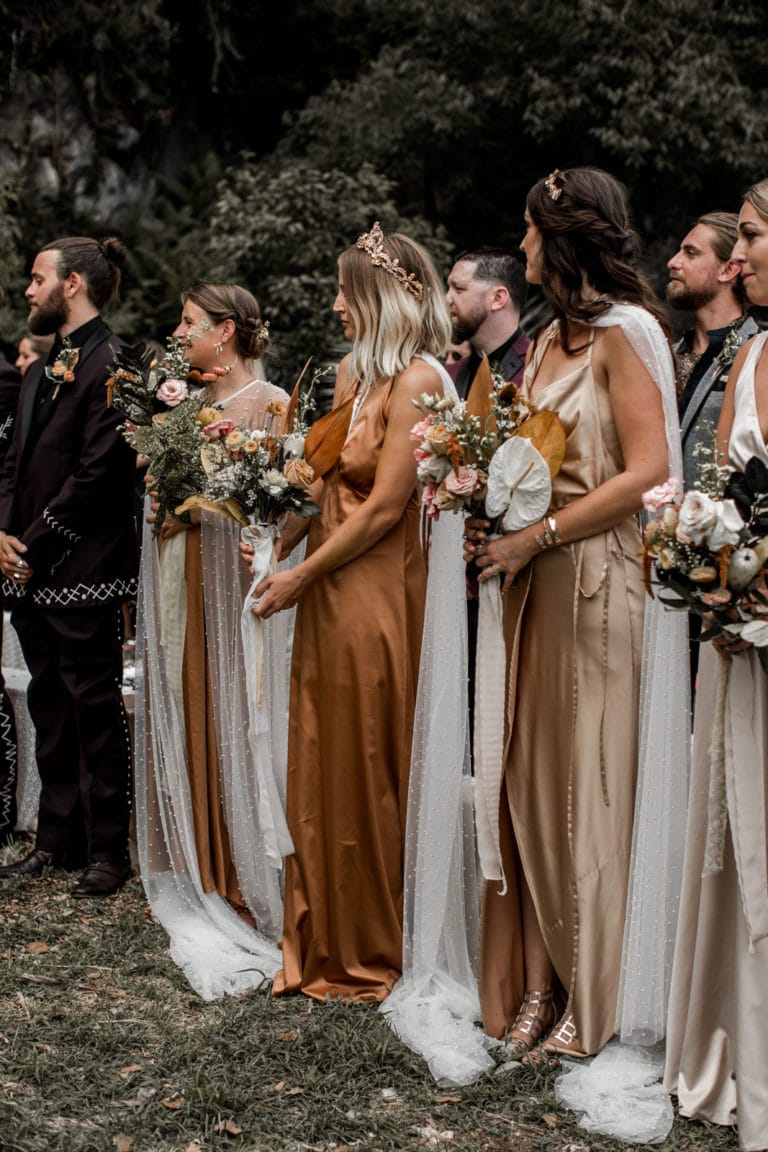 Terrence created a southwestern, boho-chic look with his and his groomsmen's suits. They all had these awesome southwestern designs on the jackets and down the seams of the pants. It was such a unique flair to add to the wedding!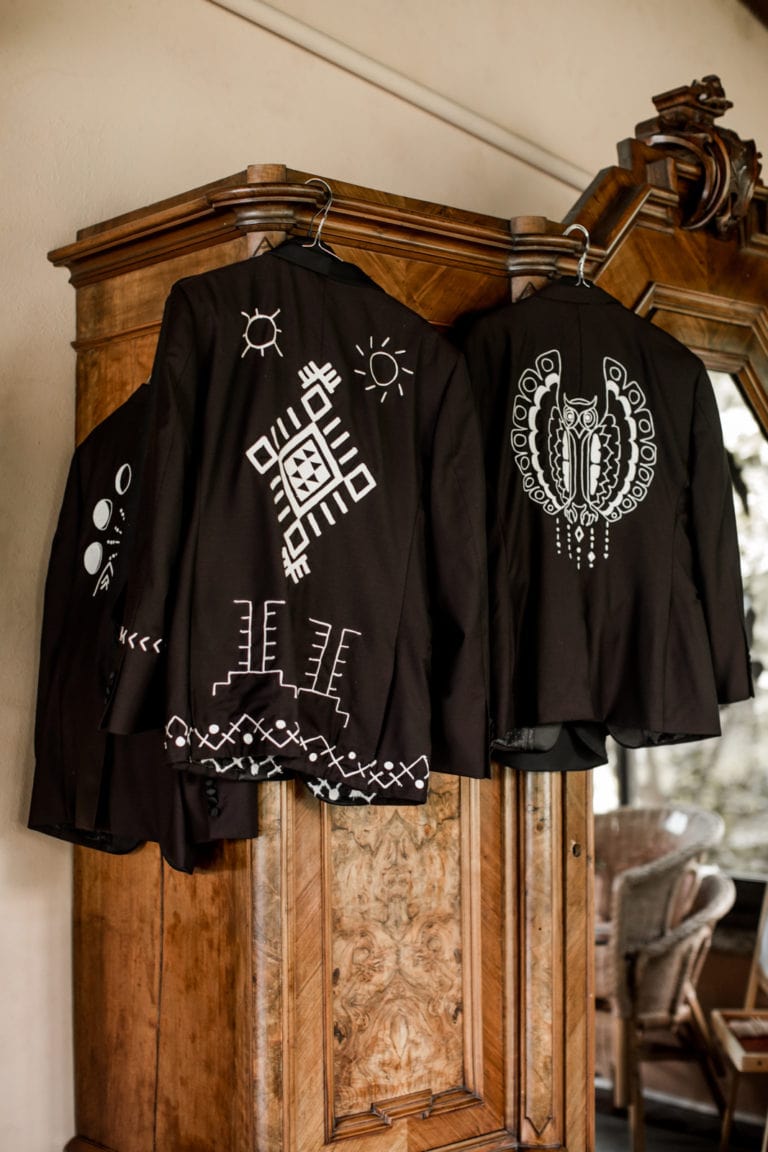 Even the bride's father, who walked her down the aisle, made an incredible fashion statement in his ultra-patterned, red suit.
The Giardini del Merlo Wedding Ceremony Venue:
If you're planning a wedding in Lake Como, get ready to have your task set before you when it comes to choosing from the top wedding venues. There are so many different villas that are scattered across the lake's coastline – it can be so difficult to choose the best one for your day!
For Ashley and Terrence, it was a no-brainer. Rather than choose one of the many villas as their ceremony venue, they opted for the location where their love story first began – Giardini del Merlo.
It's one of the many botanical gardens in the area, and it still has a breathtaking view of Lake Como and the surrounding Pre Alps mountains. And it was phenomenal getting to photograph them in a place that meant so much to their story!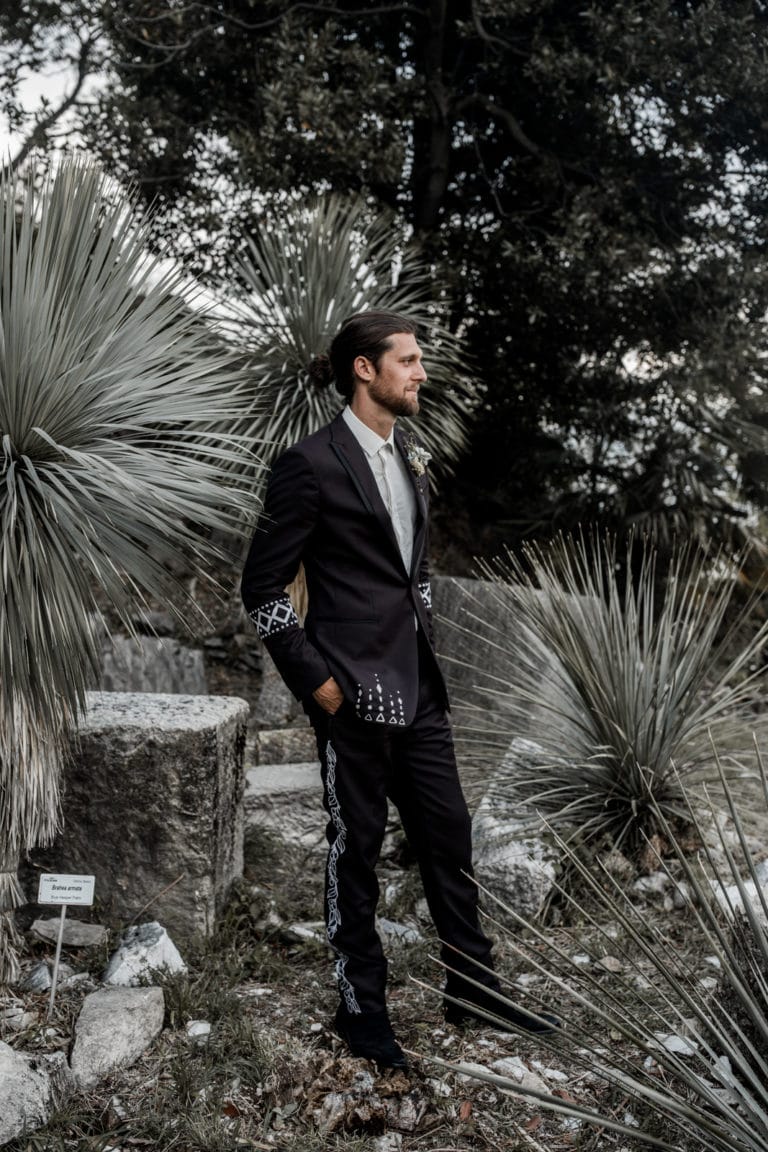 The Guests' One Requirement? All-Out Fashion!
Ashley and Terrence wanted everyone to come together for an experience as they celebrated their marriage. And because all of the guests knew Ashley and Terrence so well – they instantly got the memo. This wedding was going to be nothing short of a fashionable affair!
So everyone donned their best, vibrant outfits, including captivating accessories, as they filled in the seats at Giardini del Merlo.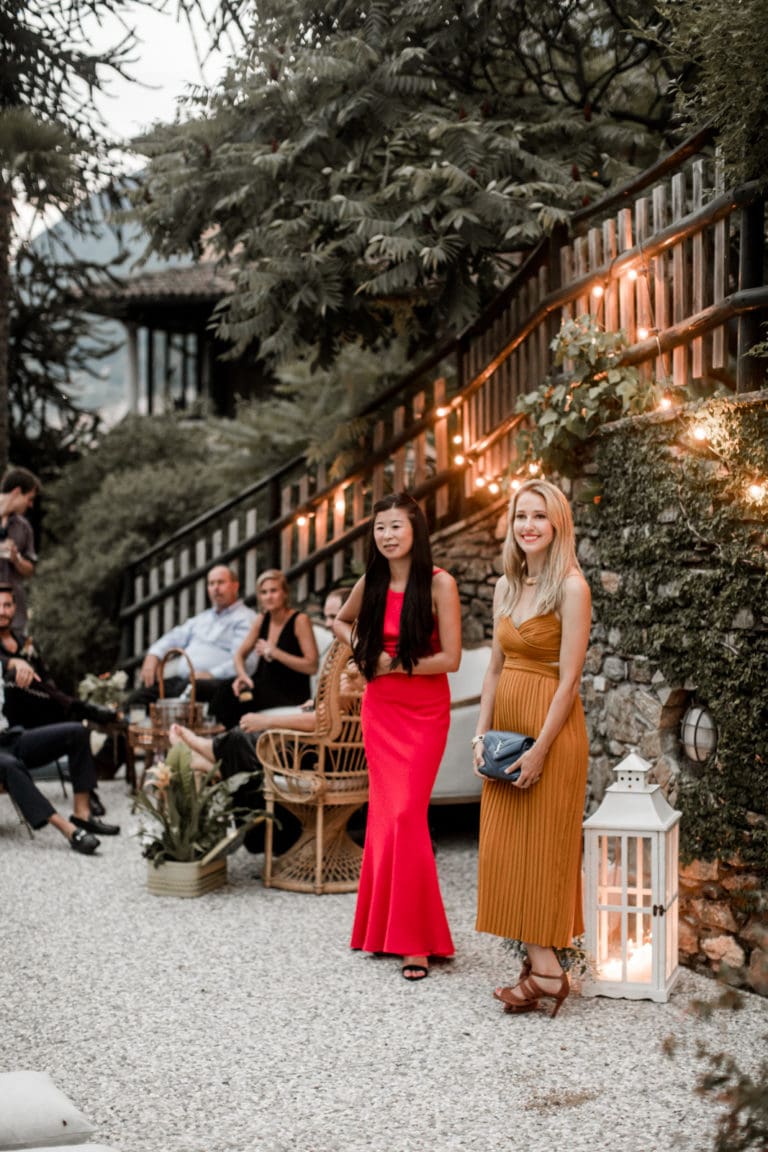 Following Up the Garden Party Wedding Ceremony with a Bohemian-Chic Reception
Right after their wedding ceremony, everyone made their way to Villa Camilla for the poolside reception. Their wedding planner, Christine Cater, described it as a "Midsummer Night's Dream," complete with beautiful, soft-colored flowers, candelabras, romantic string lighting, and even lounge seating.
A Quick Outfit Change to Dance the Night Away
As a fashion photographer turned wedding photographer, I always love it when my brides step away for an outfit change.
Not only are they (usually) more comfortable dancing the night away, but it's just another layer of their day to capture!
Ashley did exactly that after their dinner at the Villa Camilla reception. When she re-emerged, she was wearing a gorgeous white cocktail dress with stars embellished all over it.
She, Terrence, and their guests spent the rest of the night dancing, enjoying their friends' and families' toasts to their love for one another, and even soaking in the pool!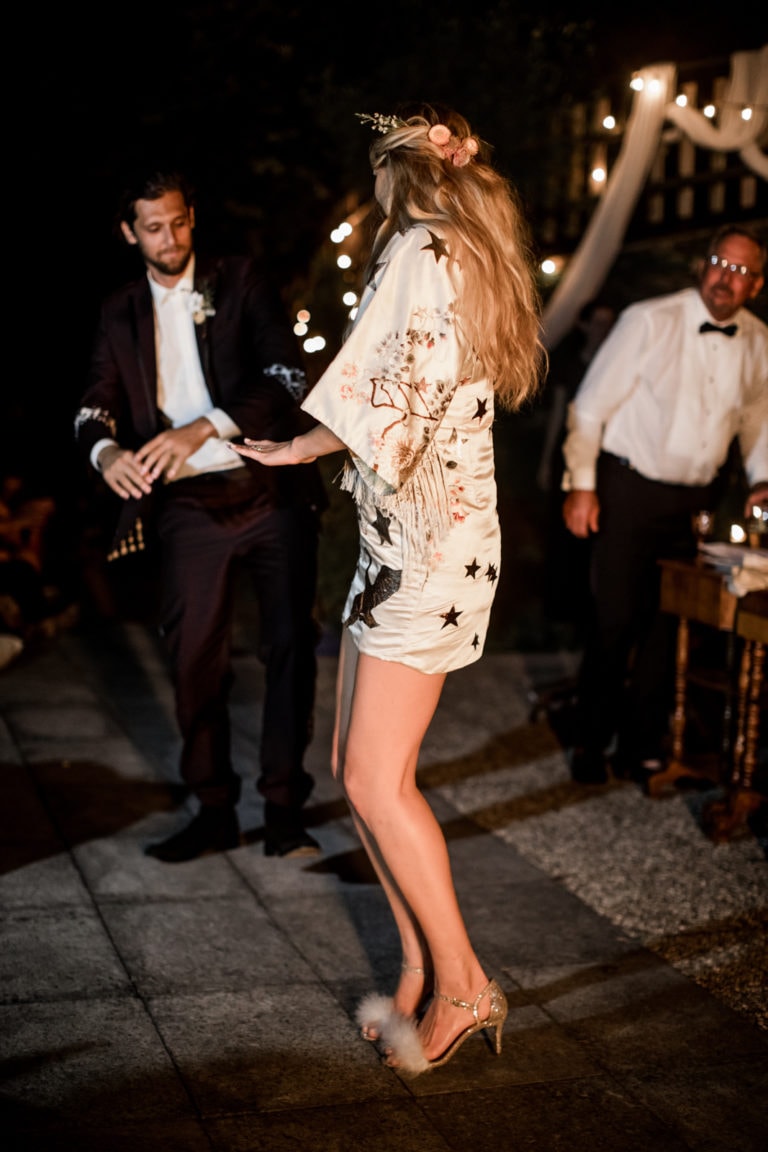 As I delivered the gallery for this Giardini del Merlo and Villa Camilla Lake Como wedding, I really saw how incredibly personalized this wedding was for them. They took elements of their story and incorporated them directly into their fairytale setting in Italy!
It's weddings like these that leave me so inspired and excited to capture the next one so I can see how other couples add those special touches to their own wedding days!
Explore more destination wedding inspiration on our blog!
Wedding Day Vendors:
Photography: Lilly Red
Ceremony Venue: Giardini del Merlo
Reception Venue: Villa Camilla
Wedding Planning: Laura Dova Weddings
Floral Design: Christine Cater
Wedding Dress: Daughters of Simone, Ashley Castanos
Bridesmaids' Dresses: Leave her Wilder
Gold Crowns and Statement Jewelry: A.B. Ellie
Hair and Makeup Artist: Sinem Yavasner