Let's be real here, you're not visiting Lake Como to eat peanut butter and jelly or mac and cheese, you're going to Lake Como for the full experience! You want to absorb all the Lake Como you can, and that includes the incredible cuisine that Italians are known for.
To capture the magic and take in as much of the culinary scene as possible, there are a few "must-do" places to eat in Lake Como. Some of our favorites include Figlie dei Fiori Bistrot, Ristorante InTeatro, and Da Luciano for a quick bite in Laglio. But there are plenty more eateries to choose from, and we have all of the best right here. For our 17 favorite spots to eat for a full Lake Como experience, keep reading.
(Oh, and by the way, this list of the best Lake Como restaurants is in no particular order! We couldn't choose a favorite if we really, really tried.)
Want a Local's Opinion? Here Are the Best Places to Eat in Lake Como
Whether you're coming to the Lake Como region for vacation, or you're getting ready for a destination wedding in the area, you may want to find a guide to help you. And who better than a local? Someone who knows the best restaurants in Lake Como because, well, we've eaten at all of them!
From finding the top unique things to do to discovering the best places to stay while you're here, I'll guide you through all of it. And for this article? I'm giving you my absolute favorite places to eat in Lake Como:
Places to Eat in Como
Fancy Eats in Como:
Price Point: $$$$
Located in the main piazza in Como downtown, Sottovocce at Vista is one of the first places we recommend to anyone visiting the area. It's the perfect place for a date night, considering it's a Michelin award winner. Not to mention, it's a gorgeous rooftop restaurant surrounded by a breathtaking view of Lake Como itself!

The Executive Chef, Stefano Mattara, sources all of his ingredients locally so you'll get the freshest experience possible of the cuisine in the area. You can choose to experience their signature Tasting Menu, where they'll walk you through an expertly prepared menu. Or you can opt for the a la carte menu to pick and choose the flavors you love!
Price Point: $$$
Next up, let me share with you Crotto del Sergente! It's a restaurant that truly embraces all of the magical charm of Lake Como into its atmosphere and its menu. They've taken all of the authentic, traditional cuisine of the area and have applied it with fine cuisine to make their signature menu.
As a wedding photographer, I love telling the stories of my couples through photos. But here at Crotto del Sergente, Chef Bruno Camera has perfected a way to tell the story of Lake Como through his food!
So if you're in the area, be sure to stop in here so you can get a unique understanding of this beautiful part of our country!
Price Point: $$$
Do yourself a favor, and just add "lunch at Figli dei Fiori Bistrot" to your Lake Como itinerary. This is a must! You will instantly fall in love with the boho chic decor, keeping the restaurant true to it's name that translates to "children of the flowers."
Chef Gianni loves to find his flavors from the path less traveled, carving out new and innovative dishes that leave a lasting impression in your mind… and palette! He uses a Cuban mangrove charcoal oven to create his unique flavors and well thought out dishes.But, Figli dei Fiori Bistrot is a local favorite and often hosts events. We suggest booking a table in advance, something you can do directly through their website.
Price Point: $$$
After walking through the quaint towns surrounding Lake Como, you might want to get away from the hustle and bustle. If that's the case, then you're going to want to go to La Costa in Lecco.
This hidden gem is a more refined agriturismo location, where they make their own wine. They also have a small hotel on property, in case you want to a longer stay to explore more of the area. You'll find plenty of keepsakes featuring the quintessential Italian craftsmanship of local artisans.
And, of course, their restaurant is on site, too. They have a locally inspired menu that changes every month to reflect the freshest ingredients. You'll quickly find out why it's one of the best places to eat in Lake Como!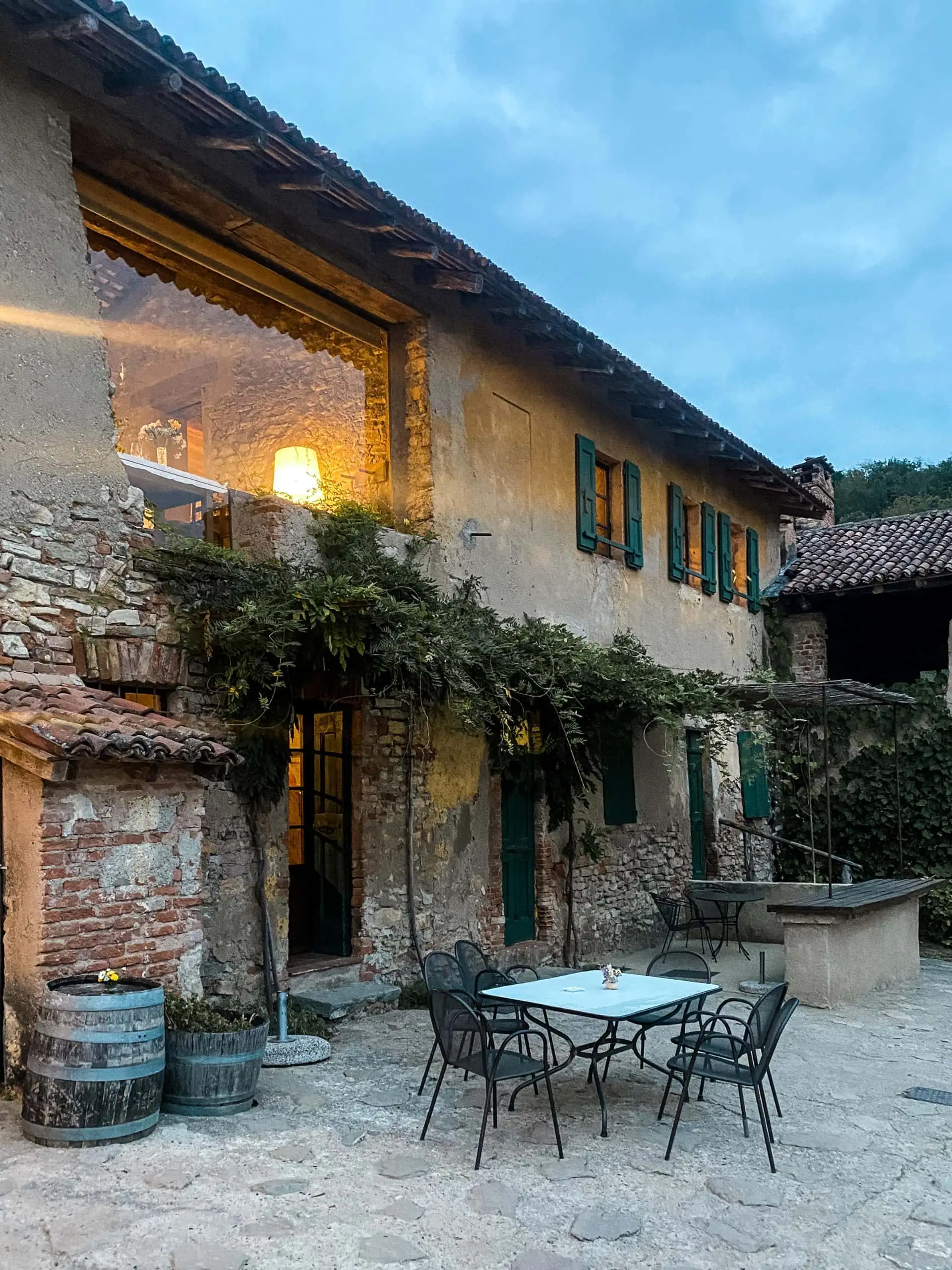 Quick Bites in Como:
Price Point: $$
While you're weaving your way through the streets of Como Downtown, you can pop into family owned Numero 9 for the delicious food and fantastic atmosphere. The pizza is a fan favorite, but this menu has range! Guests have raved about the grilled octopus, risotto, and just about everything else from the owner, Martino.
Numero 9 is a true hidden gem, amongst the hustle and bustle of the touristy downtown area. If you can, ask to sit in the garden area, where you'll be surrounded by beautiful green plants as you sip your vino and enjoy your meal. You'll quickly find out why it's one of the best restaurants in Lake Como.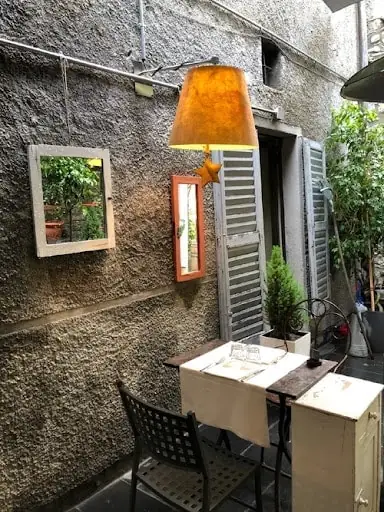 Price Point: $$
One of the best places to eat in Lake Como is literally right next door to the Como Theater. Get ready for authentic Italian pizza by masters of the craft! They serve it directly on the wooden cutting board, so you know every pizza is fresh out of the oven. Ristorante InTeatro is also known for their gluten free pizzas for anyone who has food allergies or sensitivities.
After a full day of touring the town and experiencing the lively Italian culture, we recommend getting the pizza taglieri. It's a larger size pizza and oval-shaped instead of round. But don't forget – in Italy, pizza isn't meant for sharing! Everyone gets their own (so you won't have to fight over the last slice).
Price Point: $$
In the heart of the city of Como, and just a two minute's walk to the waterfront of the lake, sits Il Pinzimonio. It's a historic building, complete with the charm of traditional exposed stone walls and ceilings with wooden beams. But it's been renovated to reflect a modern restaurant. You can expect to get the old-world flair mixed with new-world design.
While the architecture is fantastic, that's actually not where the magic is! The magic is, naturally, in their cuisine. The menu at Il Pinzimonio is unique and consistently refreshed to offer the best ingredients possible. They take classic Italian dishes and make them brand new and delicious. We recommend getting the traditional dish, La Cotoletta. It's a local Milanese dish of a breaded and fried cutlet of your choice – either chicken or veal. Don't worry, you can thank us later!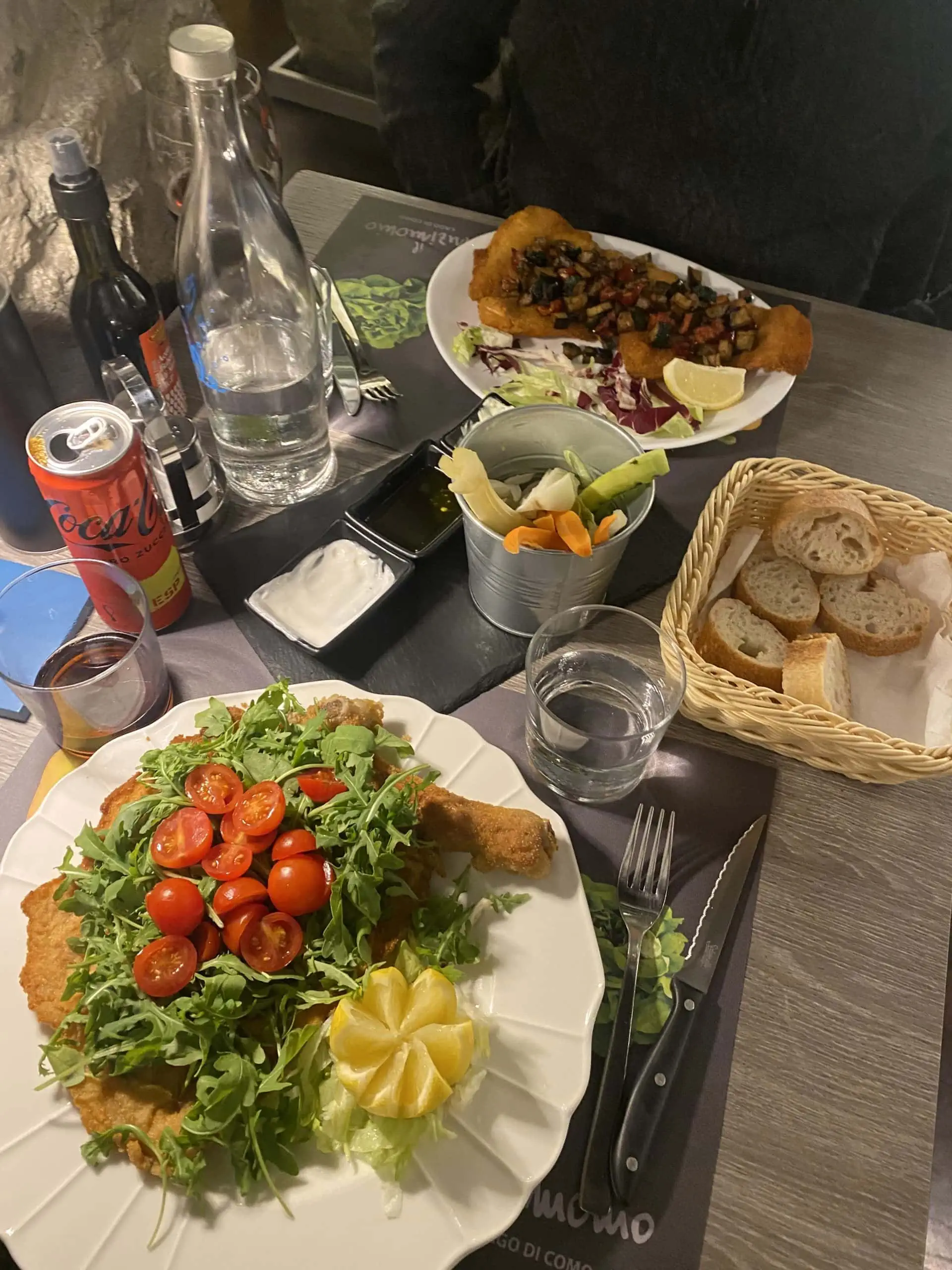 Price Point: $
Obviously gelato is on your Lake Como bucket list. Gelab is the best spot to find gelato while you're in Como. Even if you don't have a sweet tooth, you have to have a sampling of this Italian dessert. Trust us, if you leave Lake Como without treating yourself to gelato at least once, you'll be full of regret. And, if you stop in for your gelato at Gelab, you can feel a little bit better about it, knowing that the ingredients used are all natural, and vegan friendly. Natural and vegan gelato… it's like basically healthy, right?!
Places to Eat in Cernobbio, Lake Como:
Fancy Eats in Cernobbio, Lake Como:
Price Point: $$$$
If it's romance you're after, then try dinner with a view at Gatto Nero. There's a rustic vibe inside the restaurant, with heavy and rich wooden accents that blend seamlessly with the dense population of trees outside.
But seriously, who comes to a restaurant nestled in the hills of Lake Como for the inside views? Not you! It's the spectacular lake view that makes this place extra special. The menu features traditional Italian fare with a modern twist, so the food is top notch, too. And if the ambience wasn't romantic enough, there's a heart-shaped dessert on the menu, so Gatto Nero is a must for date night.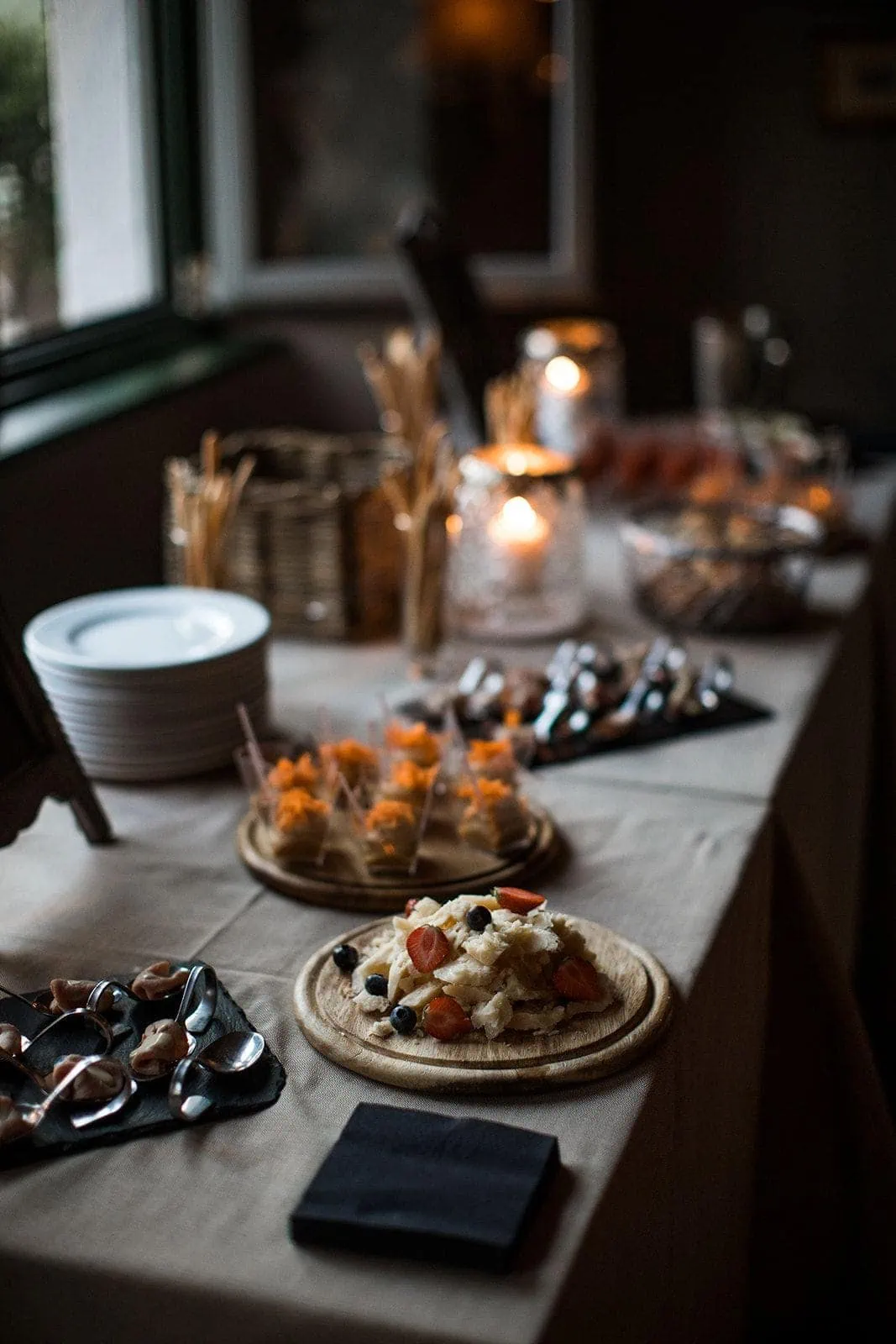 Price Point: $$$
Here you'll find the quintessential Italian restaurant style, kind of a requirement for any Italian adventure. White linens on the table, breadsticks delivered with your bottle of wine fresh from the cellar, and your food plated to perfection.
Trattoria del Glicine is known for their dedication to serving exceptional local foods, with a menu featuring everything from fresh pastas to classic favorites like eggplant parmigiana. Guests can opt to sit indoors, a great way to enjoy the lake during the colder months, or on the terrace outside with a stellar panoramic view of the lake below.
Places to Eat in Carate Urio, Lake Como:
Fancy Eats in Carate Urio:
Price Point: $$$
For an intimate brunch or lunch, check out Locanda la Tirlindana, where you can sit lakeside and watch the boats on the water. It's also a lovely spot at night, where you can see the twinkle of the lights in the hills surrounding the lake.
Guests recommend the burrata appetizer to get your meal started, along with the lemon ravioli and the scallops. Nobody leaves Locanda disappointed in their meal, service, or atmosphere.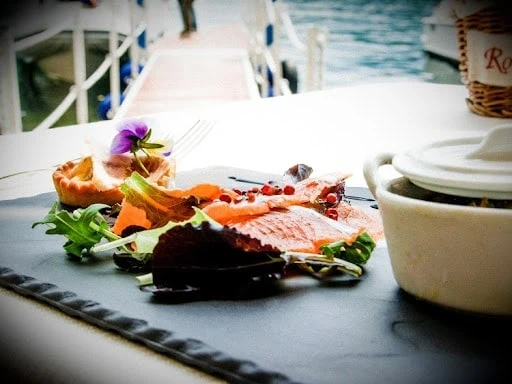 Price Point: $$$
We'd never suggest a place that wasn't 100% amazing (and there's really not any by Lake Como anyway). But Una Finestra Sul Lago in Carate Urio really does offer a spectacular view that's unmatched. When you first lay eyes on the lake as you make your way to a table on the terrace, you'll literally see for yourself. You'll be able to capture the entire first basin of the lake from your seat, which in and of itself makes this restaurant one of the best places to eat in Lake Como!
Consistency is key in any restaurant, and the reviews of Una Finestra Sul Lago prove that the food, service, and ambience are consistently great according to the hundreds of reviews online. Here you'll find all of the best local food, reinvented.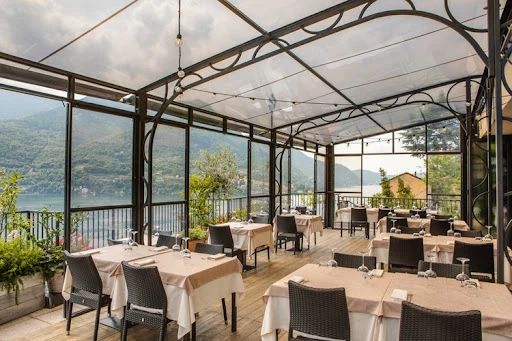 Places to Eat in Laglio, Lake Como:
Quick Bites in Laglio:
Price Point: $$
For a more aperitivo, yet equally decadent in the flavors and lake views, Da Luciano should be on your radar. The butcher shop is run by Luciano and his family, and has been for years. Here you can order your own charcuterie board and wine pairing, right from the deli counter.
Although the atmosphere is fantastic for late afternoon aperitivo, Da Luciano also serves breakfast and lunch, along with a stellar brunch. If you're planning on doing any activities on the water, you can reach this gem via boat. And, to make your day on the lake even better, you can order ahead on the website, and someone from Da Luciano will meet you at the dock.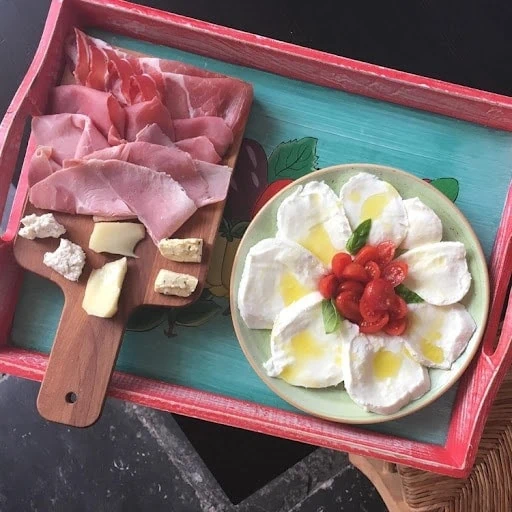 Places to Eat in Brienno, Lake Como:
Fancy Eats in Brienno, Lake Como:
Price Point: $$$
Chef Andrea Cremonesi leads a staff of chefs to create local favorites, made from ingredients sourced right in the Lake Como area. The flavors are fresh and the dishes are rich, made to pair with the most amazing wine selection. The wines at Ristorante Crotto dei Platani are stored in a natural wine cellar, an ancient crotto with unchanging temperature, the perfect place for vino.
There are several different seating options, all with equally stunning views of the lake. If there's a day with less than ideal weather, one of the indoor seating options like the veranda or small terrace allows guests to still share the ambience of the lake without getting rained on. For those days when you just have to be outdoors, try the dock or the garden. Wherever you sit, you'll still be enjoying impressive local cuisine and wine.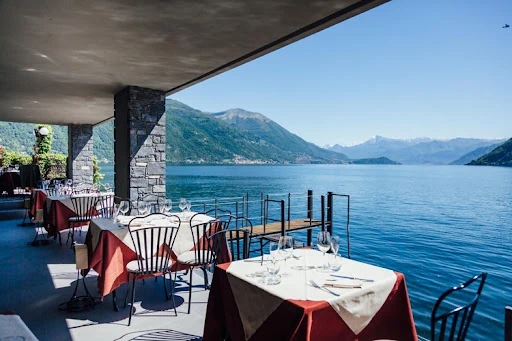 Quick Bites in Brienno, Lake Como:
Price Point: $$
Catch the sunset and delicious aperitivo at La Terrazza 125 in Brienno. This spot is one of the best places to eat in Lake Como if you're looking for a more casual, laid back evening on the lake, when you need a relaxing night out. Guests can enjoy their drinks on a wooden deck lined with a wrap-around bar, overlooking the lake.
La Terrazza 125 serves small bites and pinse, similar to pizza or flatbreads, in case you get hungry while enjoying a late afternoon beverage.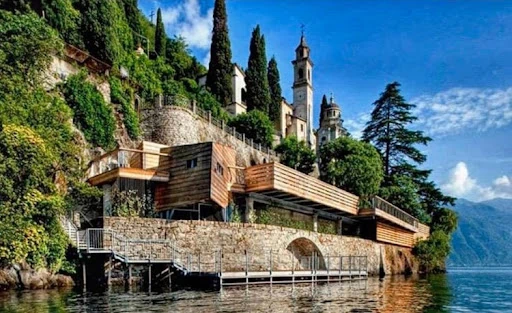 Places to Eat in Sala Comacina, Lake Como:
Fancy Eats in Sala Comacina, Lake Como:
Price Point $$$
Roteo Restaurant is one of those incredible places that combines the technique and tradition of fine dining with the young, vibrancy of creative new chefs! It's a little bit of a fusion in the kitchen between taking authentic Lake Como, Italian cuisine and pairing it with modernized culinary arts.
And just like the rest of Musa takes their inspiration from Lake Como and the art of Italy, they've applied that same principle to their Roteo Restaurant.
When you sit down at your table, you'll get to choose from multiple different tasting menus, depending on your preferences. You can opt for their signature tasting menu (which was our favorite!), a game tasting menu, and a vegetarian tasting menu option. My favorite part? The menu changes every season, so just about every time you visit, you'll get something new and exciting.
But if nothing else – the cocktails are top notch. You don't want to miss those! Whether you sit at the bar or take a seat outside on the patio with a view of the waterside, you have to plan for at least one mixed drink here.
Or you can opt to visit Roteo for breakfast or brunch – a perfect weekend option!
Places to Eat in Torno, Lake Como:
Fancy Eats in Torno, Lake Como:
Price Point: $$$$
Aperitivo is one of the most fabulous Italian traditions, although it's also one that you might want to keep when you return home. It's kind of like happy hour, only this pre-dinner drink is meant to prep your appetite for dinner. For your most special night in Lake Como, book a table at one of the bars at il Sereno, where modern meets classic in atmosphere and ambience.
You can choose to visit the bar inside the lobby, with cozy and contemporary decor. Or you can opt for one of the outdoor terraces, where you'll be able to capture one of the most spectacular views of the sparkling waters of the lake. Along with extensive menus for appetizers, there's lots of fancy cocktails to choose from, and of course, wine from the cellar.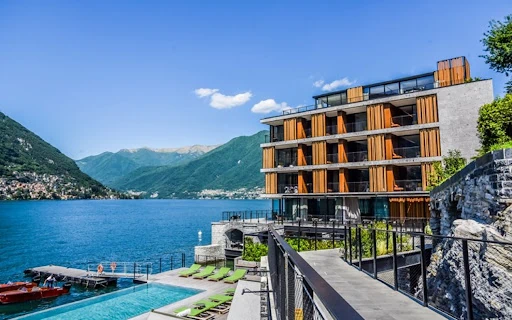 Now you have a full list of the best places to eat in Lake Como! Bookmark this page and start making reservations.
Then check out our other local guides to plan your trip to Lake Como!