So. Many. Choices! You really can't go too wrong when you're choosing your Lake Como accommodations, but to lock down the perfect reservations, you can easily spend hours researching the stay that best fits your Lake Como vision.
Instead of going down the rabbit hole of endless villas and hotels, we've put in some painstaking hours of personally visiting and researching the top options for the best places to stay in Lake Como. Alright, fine, it wasn't that painstaking. We were checking our accommodations in one of the most beautiful vacation destinations in all of the world. It really wasn't a chore at all.
The 5 Best Places to Stay in Lake Como (According to Locals!)
All of the places on our list are equally incredible and promise the full Lake Como experience. But they're all fabulous for different reasons. Before you book your favorite of our top five, there are a few things to consider. These will help you narrow down the options that will ultimately lead you to living your best Lake Como life:
· How many people are you traveling with? A larger party will require more beds and bathrooms.
· Will you be traveling with children? There are some spots that are a better fit for families.
· Are you expecting cleaning services daily? Individual homes don't always have daily cleaning services, you might be responsible for doing this on your own. Hotels and resorts usually offer these services.
· What attractions are tops on your list of must-sees? The location of your accommodations will help you better pinpoint which of our top five is a good fit.
· Are you more of an independent explorer or do you prefer a little guidance? Hotels and resorts often have someone on staff to help with directions or find guided tours, but if you're staying elsewhere you might be on your own.
· What do you envision your Lake Como accommodations to look like? Be honest with yourself, what do you hope to see in your hotel or villa? You want to book something that meets your expectations.
· What's your overall budget for accommodations?
Once you have all of that nailed down, then you can start considering one of these best places to stay in Lake Como:
This hotel's tagline says this is a place "where generations meet," and we couldn't agree more. The ambiance and architecture feature historical elements that will take visitors back in time to the 15th century. The family owned establishment is nestled in the Old Town area of Como, where it's surrounded by old Roman towers and medieval walls.
The exterior is definitely palace-like and true to it's roots. There's lots of greenery and gardens to walk for anyone looking to breathe in some of that fresh Lake Como air.And that's just the exterior! The interior of the hotel is full of impeccable décor, most of it crafted in Italy and curated locally. Each room blends the rich history of Como with a modern, chic feel. Every fabric featured is brightly colored and full of texture, without taking away from any of the natural aesthetic the hotel Palazzo Albricci Penegrini provides on it's own.
This private, luxury villa is only for those looking to take their Lake Como accomodations to the next level. Maybe even next, next level. The entire home oozes opulence from every corner, from the carefully placed kitchen stones to the floor to ceiling windows offering some of the best views of Lake Como.
The drive to the villa is an event all on it's own. The owner of the villa suggests taking an all-terrain vehicle with four-wheel drive from Torno to the home, since the road is narrow, winding, and rocky. Four-wheel drive is especially essential if you're visiting in the winter months or rainy season. But, when you arrive, you'll see the home is perched on a bluff, overlooking the lake and the town, so the drive to the top is well worth the effort.
The modern elements like the crisp, clean white lines of the walls are a stark contrast to the classic Lake Como landscape, but it's all done so well that the flow of the home just seems natural. Again, the carefully placed stones and other pieces of nature are incorporated into the structure in a way that just makes for a beautiful, seamless transition. It's like the home just belongs there.
While there are plenty of contributions from Mother Nature inside the villa, there's no doubt that the best is the bio-sauna that surrounds the lower level. You heard that right… a bio-sauna INSIDE the home. You can literally step out of the bedroom and be emerged in full relaxation in a matter of seconds.But your relaxation doesn't have to stay indoors, there's a jacuzzi on the property as well. It's the ideal place to sip a glass of vino from Villa Torno's collection while you watch the sunset over the village. Anywhere you choose to sit outside of the home has an incredible view of the lake as it snakes through the mountains. The added views of the town below is a bonus, be sure to check it out at night when all of the lights are twinkling and reflecting on the water.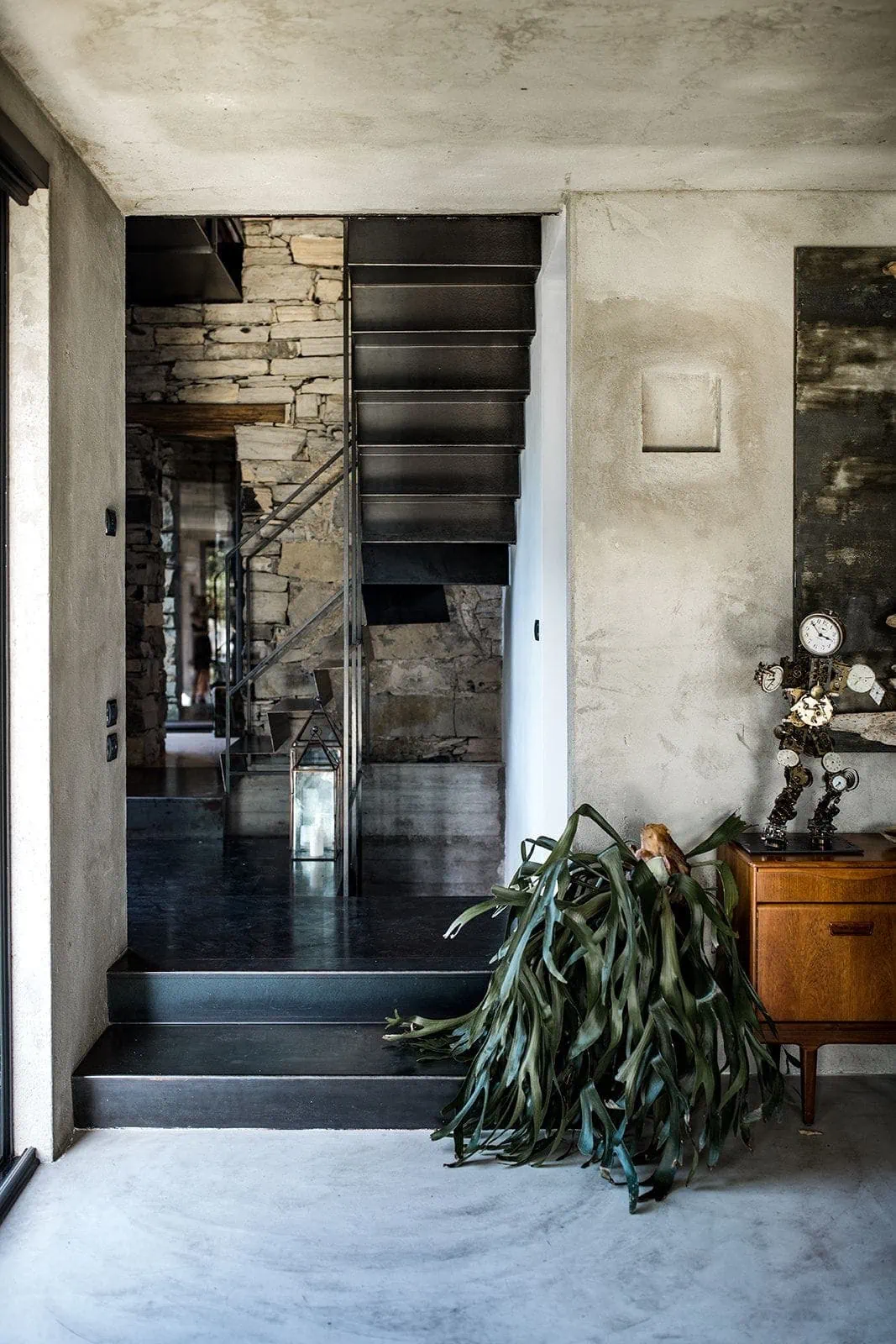 Just try to imagine a hotel that's simple in all the right way, but also finds ways to add luxury where you need it most. That's what you'll find at Hilton Lake Como. It's every bit as wonderful as what you'd expect from a Hilton hotel. Also, choosing this hotel means you can use your Hilton rewards points toward your stay, which is a huge bonus. Who doesn't love a little discount along with their luxury? Then there's more to spend on the experience!
Along with the incredibly comfortable rooms and suites, Hilton Lake Como also has a spa that you have to check out. Any of the services available are worth every penny. The rooftop pool at Hilton Lake Como is another spot that's worthy of your time, and reason enough to book a stay here. You can sip wine while you take a dip, the perfect way to wrap up a day of exploring and taking in all of Lake Como's beauty.
Luxury? Check. Five stars? Check. All the Lake Como vibes? Double check! Grand Hotel Tremezzo definitely checks all of the boxes for the ultimate, quintessential Lake Como stay. Let's just start with the sheer elegance in the rooms and suites. There are several choices for sizes and amenities, but all of them are equally beautiful in style and decor. Each room is also individually decorated, so no two rooms are alike. Essentially, you're choosing a stay that suits the vision for your Lake Como visit.
No matter what room you choose, you'll experience rich jewel toned fabrics, carefully curated furniture, and accents in our favorite neutrals… gold is a neutral, right? Either way, the rooms are simply lovely, and booking a stay here won't disappoint.
Grand Hotel Tremezzo really has it all, as in, you don't have to leave the hotel grounds unless you really want to. Of course, we'd hope you'd get out and explore all that Lake Como has to offer, but there's plenty to see, do, eat, and drink all within the hotel itself. There are several options for places to eat on-site, including a traditional pizza restaurant and even a place for luxurious private dining… with stunning lake views, of course. And being in Italy, there's naturally an incredible selection of the best wines to really make sure you're able to experience Lake Como to the fullest.
But wait… there's MORE! If you choose Grand Hotel Tremezzo, you'll have access to all kinds of activities unique to Lake Como. And the lovely staff is ready to help you hit the streets (or the waters) and explore. If you're looking for something to do on land, try exploring the nearby towns, with quaint little shops and cafes. There are so many places to see just by walking around outside of the hotel. If you're wanting to get out on the water, there are plenty of options for water sports and boat tours.
Guests that stay here also have access to the most fabulous, Lake Como beach club, called T Beach. The orange creamsicle striped umbrellas are just what you'd expect from a perfect beach spot on the lake. They're meant to provide shade, but they're of course the most Insta-worthy photo opp, too.
Clearly you can see why Grand Hotel Tremezzo is one of the best places to stay in Lake Como!
A beautifully designed and modern hotel sitting on the shores of Lake Como in the town of Torno, Il Sereno is nestled on a cozy spot on the lake but a quick walk to town or a short drive to Como. It speaks of modern luxury with a minimalist approach. The architectural elements help to bring the gorgeous views and scenery directly into your room and stay.
Need to hang out? The super cool infinity pool makes you feel like you're swimming directly in the lake. Or spend a day at the premium onsite spa for the luxury treatment. In the evenings, catch an aperitivo at the trendy bar with some new cocktail inspirations, also a place to see and be seen so dress your best at Il Sereno.
Any of these five Lake Como stays embraces all the lake has to offer. No matter which one you choose, you can arrive knowing you picked one of the best places to stay in Lake Como for your travel style. Happy Laking!