A wedding in Lake Como is nothing short of an experience. From those gorgeous mountains that cascade down to the water to the historically royal villas that dot the lake sides, this location is the epitome of an otherworldly dream – especially when it comes to hosting your wedding!
Imagine a gorgeous floral arch on a villa rooftop, with the Pre-Alps and the Lake Como water as the backdrop of your vows.
Imagine wandering the cobblestone streets of Como, Cernobbio, Bellagio, and more as you taste authentic gelato and step in and out of luxury shops. Or as you sit by the waterfront with an aperol spritz while that warm Lake Como sun rests on your face and shoulders and all your pre-wedding jitters melt away.
Imagine taking a romantic boat ride across the water in a classic Riva boat, as your own private photographer composes photo after photo of the two of you.
That's the bella vita charm and epicness that you can only find here, in Lake Como! 

So what does the upscale, quality wedding you're dreaming of (without having to compromise for "good enough") look like for your budget? That's what we're exploring here in this ultimate guide on how much a Lake Como wedding costs: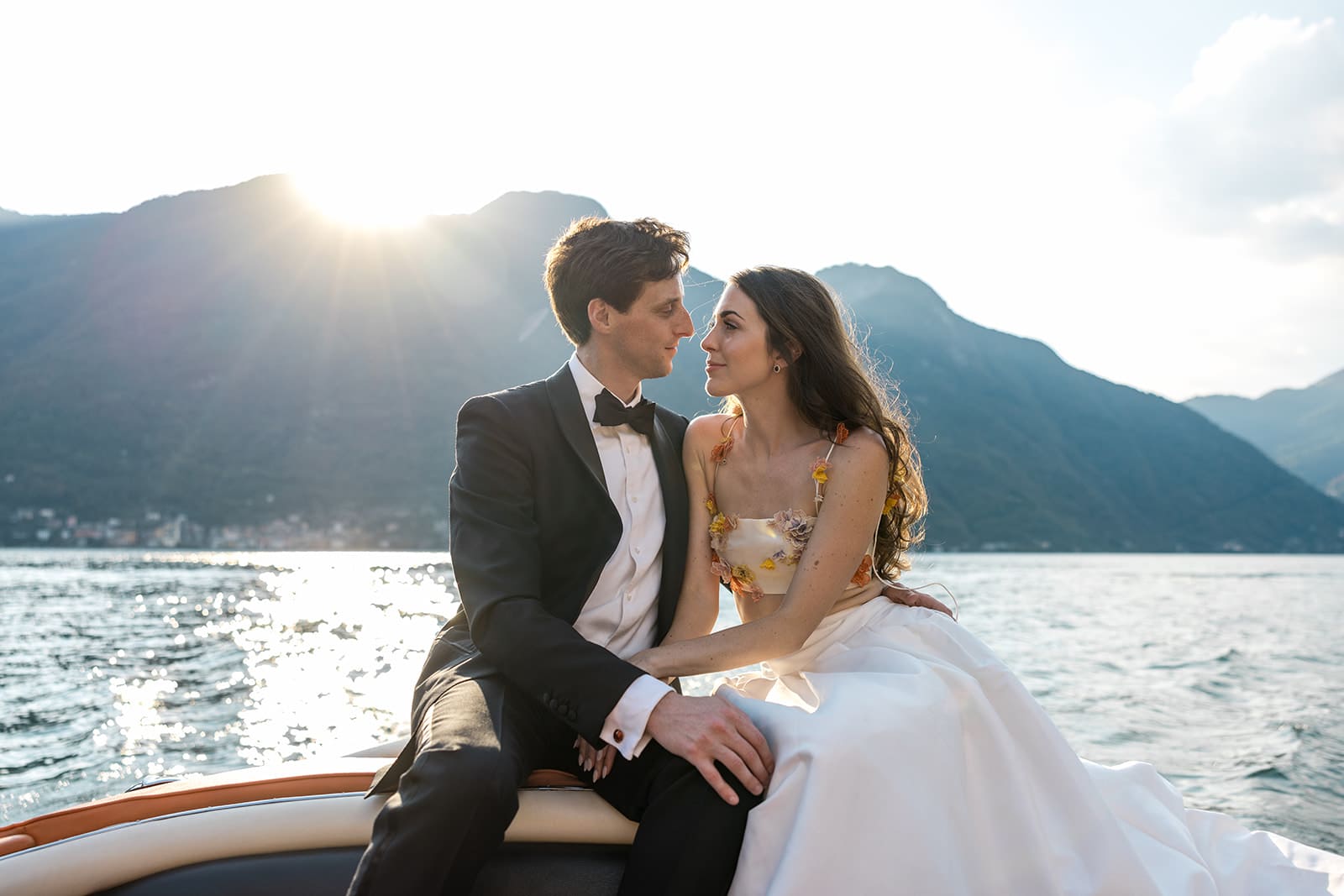 Key Vendors to Think About That Tie Into the Cost of a Lake Como Wedding:
The cost of a Lake Como wedding depends on several factors, including how many guests you want to host, what kind of experience you want to create for them, and what kind of luxurious amenities you want to add to your itinerary!
A Lake Como wedding can be anywhere between $70,000 and $455,000. And we've broken it down into two standard size weddings we often see – one with 50 guests and one with 150 guests. We've then broken it down further into a wedding on the minimum end and one on the higher end for each guest count. 
Of course, this pricing is not set in stone! A lot of these numbers depend on the choices you make with your wedding planner.
Lake Como Wedding Cost for 50 Guests (Minimum End):
Venue for Event Only – $12,000
Planner – $10,550
Catering – $150 per person
Rentals – $200 per person
Florals – $6,000
Hair and Makeup – $1,000 per person (Estimating 1 total for the bride)
Lilly Red Photography – $15,000
Videographer – $8,000
Total = $70,050
Lake Como Wedding Cost for 50 Guests (Higher End):
Venue with Lodging Accommodations – $198,000
Planner – $59,600
Catering – $300 per person
Rentals – $200 per person
Florals – $30,000
Hair and Makeup – $1,000 per person (Estimating 1 total for the bride)
Lilly Red Photography – $25,000
Videographer – $15,000
Total = $353,600
Lake Como Wedding Cost for 150 Guests (Minimum End):
Venue for Event Only – $20,000
Planner – $10,550
Catering – $150 per person
Rentals – $200 per person
Florals – $12,000
Hair and Makeup – $1,000 per person (Estimating 1 total for the bride)
Lilly Red Photography – $15,000
Videographer – $8,000
Total = $119,050
Lake Como Wedding Cost for 150 Guests (Higher End):
Venue with Lodging Accommodations – $198,000
Planner – $75,800
Catering – $300 per person
Rentals – $200 per person
Florals – $60,000
Hair and Makeup – $1,000 per person (Estimating 1 total for the bride)
Lilly Red Photography – $25,000
Videography – $12,000
Total = $446,800
That usually includes your Lake Como wedding venue, a wedding planner, and your photographer.
Once you have those settled, then you'll want to think about the remaining Lake Como wedding costs, such as your floral arrangements and design, catering, entertainment, and transportation.
But we're breaking it all down for you here:
How Much Does a Wedding Planner in Lake Como Cost?
For most vendors, you'll have a range of options to choose from. You'll have your economy packages up to your premium or platinum packages.
Wedding planners in Lake Como are no different. So you'll want to consider what you want out of your wedding planner before you can determine the average cost of one.
Typically, my Lilly Red couples love a wedding planner that falls in the premium category. These kinds of wedding planners leave no detail left behind or unthought of. Their packages include things like mood boards, full PDF plans that detail everything for each vendor, and even design and floral arrangements.
And for my couples who want to experience their wedding day, instead of trying to run it themselves, they truly prefer handing over the reins to their planner.
A full service (not a coordinator) Lake Como wedding planner of that caliber can cost anywhere between 15% to 20% of your overall budget. And the results can end up looking like these photos down below:
How Much Do Lake Como Wedding Venues Cost?
If you invest in your wedding planner early enough, then they can quickly step in and help you find the perfect Lake Como wedding venue within your budget. 
Just like with a planner, the venues in the area come in a wide range which can impact your Lake Como wedding cost.
If you're looking for smaller, albeit still spectacular villas, you may find some that are more suitable for your budget.
On the other end of the spectrum, if you're looking for extravagance and a true Lake Como la bella vita experience, then one of the grandiose wedding venues like Villa Balbiano are spectacular.
Here's an example of a Lake Como wedding venue cost breakdown:
Cost Breakdown Example: Villa Balbiano Wedding
For many venues, Villa Balbiano included, opting for multiple nights can result in a price break. 
An example cost breakdown from 2020 included:
Accommodations for 12 people in 6 suites in the main Palazzo of Villa Balbiano

For 2+ nights = $21K per night
For 1 night = $26K for the night

Extra accommodations for an additional 8 to 18 people in the Wing and the Villino at Villa Balbiano

For 1+ nights = $4-$10K per night
The maximum capacity for these accommodations (guests staying at Villa Balbiano) was up to 30 people.
An event for up to 200 guests is included in the pricing above. If you were planning on having more guests at the event, the maximum capacity was 550 people in the garden. However, if you wanted a full-seated dinner inside the Villa, the comfortable capacity was 50 people.
If you didn't want to stay at Villa Balbiano, and instead you wanted to simply host your event without the additional accommodations, then the price point was $20K.
Of course, these numbers are always subject to change. But this gives you a great idea of a starting point!
Cost Breakdown Example: Villa Pliniana Wedding
Similarly, Villa Pliniana bases their investment on the number of guests and whether or not you want accommodations at the Villa. If you do want accommodations at the Villa, you'll need to rent the entire villa (at least 10 bedrooms).
If you opt for the 10 bedroom option, be expected to budget around $165,000. And if you need more rooms to accommodate all your guests, you can opt for the 17 bedroom option for $198,000.
Here, they have a minimum spending request for the remainder of your events:
Rehearsal dinner = $100,000 minimum spending
Wedding reception = $8,000 minimum spending
Formal gala wedding dinner = $120,000 minimum spending
Wedding brunch = $80,000 minimum spending
How Much Does a Lake Como Wedding Photographer Cost?
Again, photographers come in all different ranges, and the one you choose can play an effect on your Lake Como wedding cost.
Just like with your wedding planner, you should consider first what you want out of a wedding photographer. Then, you can adjust your budget accordingly.
Some couples simply want someone who can show up for the designated hours of the event, take photos, and call it a day.
For the Lilly Red couples, however, they want an experience with their photographer. They want someone local to the Lake Como area and can help them plan, not just their wedding, but their entire celebration while they're here in Italy. So from helping curate their itinerary in the days leading up to the wedding by giving recommendations on the best places to eat, the most unique things to do, and more, to photographing the wedding day itself – they want a photographer who's there every step of the way! 
Not only that, but they want to have a photographer who creates art on their wedding day and who can provide a once in a lifetime experience. By that, I mean, they're not looking for a photographer who simply says, "Stand there. Turn your body this way," then points and shoots. They're looking for a photographer who can create a luxurious experience so that they're wedding day feels like they're being featured in Vogue.
After all, they've spent so much time, energy, and money on this day. Not only that, but it's one of the most important days of their lives! So they don't want a single moment to be missed.
And that's why they trust me to take care of them on their wedding day! Especially because they know I'll capture the most epic photographs in my signature Lilly Red style! In doing so, they'll also have a wedding photographer who brings a ton of energy and positivity to the wedding day.
"There are many talented photographers in the world, but not many people like Lily can relieve your stress and nervous on your special day. Above all, from the moment we first met by e-mail to the time we received the wedding album, the whole process was very very smooth and fast! I was so surprised how she can handle it so fast and perfect. I still remembered her energy naturally made us happy and laugh on our wedding day, I was really grateful for that. Of course she captured every romantic moments as natural and dramatic as possible. All our guests really love all the pictures we shared. 100% Everything was just perfect. We love Lily!"
You can find out more about my Lake Como wedding photography experiences and pricing here.
What Else to Consider When Planning Your Lake Como Wedding Budget:
In addition to the three major vendors above, there are some other vendors you need to consider when determining your Lake Como wedding cost.
While the pricing for this can change depending on many factors like your preferences, your guest list, and the season in which you get married, we've included the typical percentage each one should take up for your wedding budget.
Catering:
Believe it or not, catering is a pretty big part of your overall wedding budget! Typically, it's priced based on each person who's in attendance at your event. You can expect to spend anywhere from $150 (minimum) per person for catering. But depending on the type of meal you want to provide that price can slide up to $300 (or more) per person.
Depending on who you go with, certain packages may also include alcohol and your wedding cake.
Entertainment:
Entertainment between both your ceremony and your reception typically makes up 5 to 8% of your overall Lake Como wedding cost.
That may include having a DJ who can help you and your guests dance the night away. It may include extras like fireworks during the cake cutting or your grand exit. You may expect to spend more if you opt for live music throughout the reception.
Flowers:
Often, flowers are some of the first things cut when couples try to save costs. But if I can give my advice, I would say try to find other ways to stay within your budget and keep the flowers.
Floral arrangements make your wedding day feel alive in a way that no other alternative can do!
From floral arches at your ceremony to gorgeous pieces on your reception tables down to the bouquets you and your wedding party hold, nothing can replace beautiful flower arrangements.
Many large publications say that flowers should make up 8 to 10% of the overall budget for a wedding. But there are a lot of factors that go into your overall flower budget. For example, depending on what you select, they may be out of season and require additional charges to source them. Or they may need to be transported from a further distance to your destination wedding in Lake Como.
It also depends on how many people you're hosting at your wedding. If you have a large bridal party, you'll have to account for multiple bridesmaid bouquets. If you have a large guest list, that will come with more reception tables, which means more floral centerpieces.
Depending on the size of your wedding, we've seen flowers cost anywhere between $6,000 and $60,000 or more .
But as we know, flowers add that gorgeous, cohesive element that takes a wedding to the next, luxurious level. There is no faux alternative that can create the look that real flowers designed by a florist or full service wedding planner can!
Stationery:
I always love when a couple plans part of their budget for stationery. There is something about beautiful hand-calligraphed wedding invitations that immediately sets the tone of your celebration for your guests for the remainder of the wedding.
Not to mention, they also set the mood of your overall story when it comes to your wedding photography gallery.
Plan on using 3% of your overall Lake Como wedding cost toward stationery and invitations.
How You Can Work with Your Budget for Your Lake Como Wedding:
Sometimes the dream of a Lake Como wedding is all you need to make it happen. So if you need ways to work with your budget to make your Lake Como wedding dreams happen, then keep reading.
Opt for a Smaller Guest List to Cut Costs:
Any wedding, whether it's close to you or a destination, immediately gets more expensive with a larger guest list. So if you're dreaming of saying "I do," with the Pre Alps as the backdrop of your mesmerizing Lake Como wedding, but you're concerned about an exorbitant price tag, then the first thing you can do is consider how many people you'll invite.
A list of 150 guests is drastically different from one of just 50 guests. That can often look like savings of upwards of 50,000-100,000 dollars!
Put Together an Intimate Elopement:
Similar to curating a more intentional guest list, you might decide that an intimate elopement in Lake Como is better for your needs than a large-scale wedding.
But a smaller elopement doesn't mean you have to sacrifice a luxurious getaway for the two of you. You can still plan on a complete Lake Como and Lilly Red Photography experience, where the two of you feel as though you're gracing the glossy pages of high-end fashion magazines. It can also include upper class flights and grandiose hotels that are made for you to escape your everyday life and enter into a fairytale in one of the most sought after locations in the world!
A smaller, private elopement that still creates a luxe getaway can bring costs closer to $10,000 – $20,000 for you and your partner. If you're considering this route, we have an entire guide on how to elope in Italy!
Plan for an Off-Season Lake Como Wedding:
If you have your heart set on particular vendors and venues in the Lake Como area, but you need to make sure they fit within your budget, then there's one simple solution.
Plan for an off-season wedding.
Just like with most other locations, there are specific "on-seasons" and "off-seasons," meaning there are times of the year when weddings are more popular. Those times mean vendors and venues have to increase their prices to accommodate the number of couples getting married.
Off-season weddings mean venues and vendors typically have more space in their calendar. That means you may have an opportunity to make your budget stretch further to accommodate a Lake Como wedding cost.
Book Your Lake Como Wedding Venues and Vendors Early:
Lake Como weddings are becoming more and more popular! And, honestly, for good reason (if I do say so myself).
This area is beyond breathtaking. Those majestic Pre-Alps mountains that sharply angle to the lake are otherworldly.
But a big increase in popularity means that all of the best venues and vendors in the area get booked up much faster.
So to avoid having to settle for less than your favorite and to potentially lock in great rates, it's always a good idea to book your Lake Como wedding venues and vendors as early as possible.

We recommend at least 8 to 12 months in advance. But for many in-demand venues and vendors, you may need to even plan 24 months ahead of time.