It's one of the most romantic places in the world. But did you know that it also has some of the most diverse sceneries – all of which are perfect for the backdrop for your elopement?
I'm talking about Italy, of course!
From the Amalfi Coast to Puglia. And from Rome to Florence, there are so many places and ways you can elope to this magnificent country.
I'm sharing more on how to elope in Italy so you can have the wedding of your dreams!
Can You Elope in Italy?
Before you start dreaming of an incredible Italian elopement, first you're probably wondering whether it's even possible. After all, the legal marriage process in many countries is long. And some places don't even allow foreigners to elope there.
Italy is not that way! Unlike those other countries, Italy opens its borders to foreigners to get married, as long as they meet the requirements.
To get married as foreigners in Italy, partners need to:
Be legally single, legally divorced, or widowed
Not be relatives, even if through adoption
Bring (at least) two witnesses
If you meet those requirements, then you and your partner can very well elope in Italy!
How Much Does It Cost to Elope in Italy:
When it comes to how to elope in Italy, another potential barrier to entry is the cost of it. There are several expenses you'll need to plan for. But with proper planning and budgeting, it's completely possible to have a romantic, destination elopement.
The documentation process for a legally binding marriage in Italy requires paying town hall fees. For that, you can plan to pay between 200 and 600 euros.
The remaining costs to elope in Italy depend on the kind of elopement you want to have. Do you want to still have a designed ceremony, several guests, and a complete reception? Or would you rather have an intimate elopement just between you, your partner, and two witnesses?
Depending on what you're envisioning, your costs may change! But overall, here's what you can plan for when budgeting out a cost to elope in Italy:
Travel expenses, flights, and transportation
Hotels
Floral arrangements
Reception tables
Wedding cake
Restaurants
Wedding vendors (planner, photographer, videographer, floral designer, hair and makeup artist, etc.)
Experiences while you're in Italy
What You'll Need to Elope in Italy:
No matter how large or small you want your elopement to be, you'll need a few key pieces of documentation to make sure everything is done legally.
A Marriage License for Your Italian Elopement
A marriage Nulla Osta (certificate of no impediments). You can request this at the Consulate or Embassy of your country in Italy
An Atto Notorio signed by your two witnesses
A declaration of marriage intent submitted to the civil register
Proper Documentation
Valid passports / ID cards
Original birth certificates
If divorced or widowed, divorce papers or death certificate
What We Recommend:
To make everything smoother, so you have more time to experience Italy, we recommend doing your civil paperwork at home. Then, you can plan for your symbolic elopement abroad. The paperwork is a big process in Italy, especially when you're not a current citizen. So you can save time and devote more of it to the exciting parts of your destination wedding, instead of spending too much time at town hall.
However, if you truly want the full experience of getting married in Italy, the paperwork process can be done! It just requires a little bit more planning beforehand.
How to Plan for Your Elopement in Italy to Have the Most Unforgettable Experience:
When you've decided on this adventure, then the fun part begins! Discovering how to elope in Italy can be just as fun and exciting as getting on a plane and exploring this amazing country. Okay… maybe not as fun and exciting as actually being here. But it's pretty close!

I want to make sure you have the most unforgettable experience in my beautiful Italia, so I've gathered together all of the most important things to consider when you're planning your elopement:
Where to Elope in Italy: The 15 Best Places for Your Italy Elopement
Part of knowing how to elope in Italy involves knowing where you're going to go. Italy is large! And every part of it offers something incredible to make for an unbelievable elopement.
I know it's hard to decide the backdrop of your epic marriage, but here are the top 15 places to consider for your Italy elopement:
1. Lake Como, Italy:
Let's start with my favorite location – Lake Como! I may be a pinch biased because I live here. But it truly is the most magnificent, romantic location to get married in Italy!
Between the picturesque mountains that slope down to the lake itself and the historic charm and elegance of the Lake Como villas, this is a dream destination for so many for a reason.
And you really can have it all here. No matter what kind of wedding you're imagining, there is a Lake Como wedding venue that's perfect for you.
Thinking of a small, intimate elopement with a crystal clear view of the lake? Then Villa Evelina is the way to go. Want an extravagant elopement for you and your guests? Try Villa Sola Cabiati!
Can't you picture it already? Spending a few days before your ceremony wandering the towns surrounding Lake Como, like Lecco, Como, and Varenna. You can visit some of my favorite places to eat in the area and even experience some of the most unique things to do!
On the day of your elopement, you, your partner, and I can plan for some photo opportunities to make the day one-of-a-kind! Imagine a boat ride across the lake while I capture photo after photo. Then, we'll head over to your ceremony site, you and your partner can profess your love and loyalty to one another in front of the gorgeous scenery. And I'll make sure every moment counts as your Italian elopement photographer!
2. Portofino, Cinque Terre, Liguria
I wouldn't say it's a "hidden gem," because it's still well-known. But it's often overlooked compared to the Amalfi Coast.
However, it shouldn't be! The Liguria region, which includes Portofino and Cinque Terre is just as stunning as Amalfi and (dare I say!) Lake Como. If you're looking for vibrant towns nestled into hillsides, with turquoise blue waters as the backdrop to your Italian elopement? Then this is the location for you! And another key part? It's not typically as crowded as Amalfi is!
Imagine arriving a few days before your elopement ceremony. You spend each day exploring the five towns (that's what the name "Cinque Terre" means in English!), tasting authentic gelato, and shopping for keepsakes made by local artisans.
On the day of your ceremony, you and your partner are married in front of your two witnesses with crystal blue water as the incredible backdrop.
And afterward, you'll come with me and Vic as we head down to the beaches for the most epic elopement portraits! Not only will you get to experience everything firsthand, you'll have the photographs to last you a lifetime.
3. Dolomites
If you want less water and more dramatic mountain landscapes along with the adventure of a lifetime? Then eloping in the Dolomites is probably perfect for you. It's the absolute epitome of an epic backdrop for your elopement.
If you're already picturing an adventurous and adrenaline-rushing hike through these majestic mountains, followed by an elopement ceremony with the mountains as your setting, then you'll want to consider Tre Cime di Lavaredo. You, your partner, and I will hike the loop while I capture all of the exciting moments exactly as they unfold.

Or, if you're looking for a touch of romance (while also adding in a water feature) to your adventure, then I suggest an elopement at Lago di Braies in the Dolomites. The turquoise and sea-foam green waters combined with the sharp, majestic peaks of the mountains will make for the most epic photos!
4. Venice
For so many couples, they want to experience the beauty, history, and culture of Italian cities. Not to mention, these cities are known for their passion and romance!
If that sounds more like you, then eloping in Venice, Italy may be a location to consider. It's known for its "river streets," hence the nickname, "City of Canals." You can expect winding, slow-moving canals combined with picturesque bridges and the most striking architecture.
5. Florence / Tuscany:
Maybe you're the kind of couple that prefers the rolling hills of the countryside, compared to the sharp mountain peaks or the serene waves of the coast. And maybe you love to see the culture and history the world has to offer!
If that's the case, then consider eloping to Tuscany to get the wide open fields, gently rolling hills, and established vineyards. Add Florence to your itinerary so you can experience the history and art of the ancient city.
You can easily plan an elopement that involves both the culture, architecture, and Renaissance art of Florence. Soak in the rich history of the city, including museums and art galleries like Palazzo Pitti. Take a day trip to Fiesole to explore the formal gardens, Roman theaters, and even ancient Etruscan walls.
Some of my other favorite stops include:
Then, absorb the sun-soaked vineyards and hills of Tuscany for a private elopement ceremony. I recommend finding a local winery for the intimate celebration!
6. Umbria / Marche
Another fabulous location in the Tuscany region is Umbria and Le Marche. Where Florence is well-known to most, Umbria and Le Marche both are hidden gems, making them some of the perfect places to elope in Italy.
You can expect the same history and culture you'd find in Florence. But the amazing part is you won't find any of the large crowds since they tend to stay in the major city.
Umbria and Le Marche both are framed by the quintessential rolling hills of Tuscany. Combine that with some of the most iconic medieval hilltop towns, and you have an elopement setting in Italy that's worth its weight in gold!
7. Rome
When in Italy, come to Rome, right? The capital of Italy is a "must-see" for so many people, and it's one of the easiest places to explore since everything is within walking distance.
Plus, it's one of the best places to elope in Italy because of all that it has to offer! If you and your partner are people lovers who want to experience new bustling cities, then this is the perfect spot. And if the two of you love to soak in different cultures, including authentic cuisine, museums full of art, and historic architecture, then you can't miss this place.
Imagine incredible portraits just after you're married among the architecture and ruins of Ancient Rome, including the Colosseum!
8. Naples
Love the idea of mixing ancient history and nature together for your elopement in Italy? Then you may want to consider Naples!
It had an extensive history among both the ancient Roman and ancient Greek empires. Not to mention, it's home to Mount Vesuvius and the ancient ruins of Pompeii.
Even more so, it's a gorgeous coastal town on the Tyrrhenian Sea that's packed with vibrance and culture, including authentic Italian cuisine. And yes, Naples is the birthplace of Napolitano pizza!
Plan an elopement in Naples that includes an itinerary of exploring the Baroque art in the museums, eating pizza to your heart's content just like a local, and even walking through historic castles by the sea, like Castel dell'Ovo.
9. Amalfi Coast
It's one of the most visited places in all of Italy, and often thought of first when anyone plans an elopement to the country.
I'm talking about the Amalfi Coast! And if you and your partner are looking for a picture-perfect elopement along the water, then this location should definitely be a contender.

Between the vibrant towns all along the coast, like Ravello, Positano, Amalfi, and Sorrento, and the coastal road that connects them (with the most gorgeous view of the Tyrrhenian Sea), there's a reason why this location is so popular.
There are so many incredible locations to host your elopement ceremony along the Amalfi Coast. Whether you're wanting something reminiscent of ancient Italian history or you're looking for something that pays tribute to the location along the water, there is something for you.
And don't worry! While I'm local to Lake Como, I still know elopements in Amalfi like the back of my hand. I'll guide you on the best places to eat like a local, where to stay, and how else to experience the area (aside from your ceremony).
10. Sardegna
This location is, without a doubt, one of the most hidden gems when it comes to the best places to elope in Italy. It's a small island that sits in the middle of the Mediterranean Sea, which means you'll have access to the beautiful coastal waters for your elopement.
On top of that, you'll find the rugged landscapes that are so classically Italian. It creates an amazing location that so many don't even know about!
With historic villas that have been renovated into wedding venues, you and your partner can get married amidst the Mediterranean-style architecture, lush, tropical foliage, and the history of one of Italy's premiere islands.

An elopement in Sardinia is sure to be one-of-a-kind and completely unforgettable! Especially if I'm capturing photos of you and your partner to last forever.
11. Puglia
Next, we come to one of my other favorite locations for your dream elopement in Italy – Puglia. It's a region on the southeastern coast of the country, and it is spectacular to say the least.
Imagine whitewashed hill towns, old masserias and farmlands framed by ancient olive trees, cacti mixed with vivid, lush flowers, baroque architecture at every turn, and – of course – the Adriatic and Mediterranean Seas in the background.
If you're looking for something off the beaten path, then this is the region to visit. Some of my favorite places in the area are:
No matter where you wind up in Apulia, you're sure to have an unforgettable experience that's effortlessly Italian!
12. Matera
Down at the southern end of Italy in the Basilicata region, on a rocky outcrop of land, sits the city of Matera. As soon as you step foot in this city, you'll instantly be transported to a time long passed. It's one of the most ancient cities in the world, and the architecture proves it.
All of the buildings in Matera are carved out of rocks. Because the steep mountain made it difficult for anyone to build homes, they used what they had available — the mountainside itself!
If you're looking for a location that is truly unlike any other, you'll find it here. Whether you have a love for history, the art of architecture, or experiencing beautiful cultures, Matera has it all.
Can you imagine having a wedding photography gallery that includes these magnificent buildings in it? Or having the ancient city as the romantic backdrop for your Italian elopement? It will truly be epic and one-of-a-kind!
13. Capri
Just off the coast of Amalfi is the island of Capri. And whether you're looking for a location that can give you awe-inspiring natural beauty, some of the most delicious food you've ever tasted, or even a luxury shopping experience, you'll have it all on this island.
Imagine a "just married" elopement photography session on a boat tour of the water and the stunning rocky coves that make this location seem otherworldly!
And after an incredible elopement celebration, you and your partner can sit down to some of the most delectable, authentic Italian food you've ever tasted! Real Caprese salad, anyone? Or how about a wood-fired pizza?
It's no wonder why this is one of the best places to elope in Italy!
14. Tropea
If you're thinking of a magnificent elopement on the beach, then Tropea should be at the top of your list of places to look into!
This location is known as the "jewel of Calabria," and even the "pearl of the Tyrrhenian Sea," and it's so easy to see why.
It's an older city situated on top of incredible cliffs that overlook beaches white sand beaches and crystal clear turquoise water. And it's the perfect place for that beach elopement you're dreaming of. I'd say it's even better for a beach wedding than the Amalfi Coast!
15. Sicily
And finally, at the southern tip of Italy, rests the island of Sicily. Here, you'll find everything you've ever wanted in an Italian elopement.
From old-world history, architecture, and charm to stunning waters and incredible food, Sicily has it all. You can visit the ancient ruins from the Roman and Greek empires or visit amazing Baroque cathedrals that are still standing today.
As you're planning to elope in Italy, think of traipsing through the streets of Palermo, the capital city of Sicily. Or imagine visiting the coastal town of Taormina to get a view of the amazing blue waters of the Mediterranean.
Don't forget that Sicily is larger than you might think. Some of my favorite places on the island are:
Taormina
Marzamemi
Syracuse
Noto
Ortigia
Eolie Islands
Pantelleria / Panarea
Favignana
Palermo
Just about anything you want to experience in Italy, you can do it in Sicily!
When Should You Plan for Your Elopement in Italy:
Next up in your ultimate guide on how to elope in Italy, we're determining when to elope. Just like anywhere else, Italy experiences differences in weather depending on the season. So finding the right time is important!
There is no "right or wrong" time, though. It's all up to you and what you prefer!
Winter (December-February):
While so many tend to shy away from winter weddings, I'd say don't write it off just yet! Winter in Italy can be cold, but it can also be so magical! There's usually fewer tourists and smaller crowds, which can be beneficial for your elopement.
And the Dolomites is one of the best places to embrace a magical winter vibe for your Italian elopement. Considering the location, there's more than likely going to be snow. Combine that with the dramatic landscape of the mountain peaks, and you'll have one of the most epic elopement locations in all of Italy.
But you do need to know that some places do close down in the winter due to less foot traffic. You can expect a lot of the big hotels around Lake Como to close from the end of October through the middle of April.
Keep that in mind before booking anything!
Spring (March-May):
Spring is always one of the best times of year to get married, no matter where you are! And Italy is no different.
With a spring Italian elopement, expect fresh, colorful flowers everywhere. It's the start of the tourist season, so you can also expect crowds to be small or larger depending on the time you choose.
You'll also want to plan for changes in weather. Pack for colder days and for more mild days!
Summer (June-August):
Summer is one of my favorite times of the year in Italy! At the start of the season, it's beautifully warm and perfect for outdoor elopements and experiences.
Towards the end of summer, particularly in August, you can expect it to be hot. In fact, I recommend avoiding an August elopement in Italy altogether. Most Italians go away on holiday at this time. It's not like in the USA where everyone has paid time off and can use it anytime. Everyone has the same dates to take off work, which means the locals clear out and head to the seaside!
Fall (September-November):
Fall in Italy is the rainy season, but that doesn't mean you can't have an amazing time! You'll still see plenty of changing colors in the foliage which makes for beautiful, visually striking photos for your elopement.
It's usually quiet during this time of year when it comes to tourists. You can plan on there being fewer crowds, which can make for special experiences!
Italy Elopement Vendors:
Having a dream team of vendors and professionals when you elope to Italy is so important! They'll make sure everything goes smoothly – from helping you plan the timeline on the elopement day to making sure you have unique experiences booked to round out your trip.
The vendors to book depend on the kind of wedding you want to have. But they may include a team made of:
Videographer
Planner
Floral Designer
Stationer
Caterer
Venue
As a local to Lake Como, and having traveled all across Italy, I have relationships with many of the best Italian vendors that can help make your dream elopement a reality. I'll be your guide to Italy, and I'll be the liaison between you and your team of Italian vendors.
How to Elope in Italy the "Lilly Red" Way:
I truly believe that your elopement shouldn't just be a bucket list of things to "check off," when you come to Italy. It should be about enjoying the culture, the beauty, and the life of living like a local.
It's not just an elopement! It's an experience. It's having this important milestone, surrounded by the most epic scenery, a vibrant culture, and a new place to explore. It's something you'll remember forever!
While you're here, I want you to embrace the Italian vibes and live la bella vita – "the beautiful life." Soak in the bespoke art, rich history, architecture, design, authentic food, and the vintage charm.
Combine that with plenty of fashionable outfits, well-curated designs, local traditions and culture that are free from tourist traps, and a luxurious experience without being pretentious or stuffy.
Eloping in Italy lets you experience and live all of that and so much more in the most meaningful way.
That's what it means to elope in Italy the "Lilly Red" way! Vic and I will be your guides to get you that result and so much more.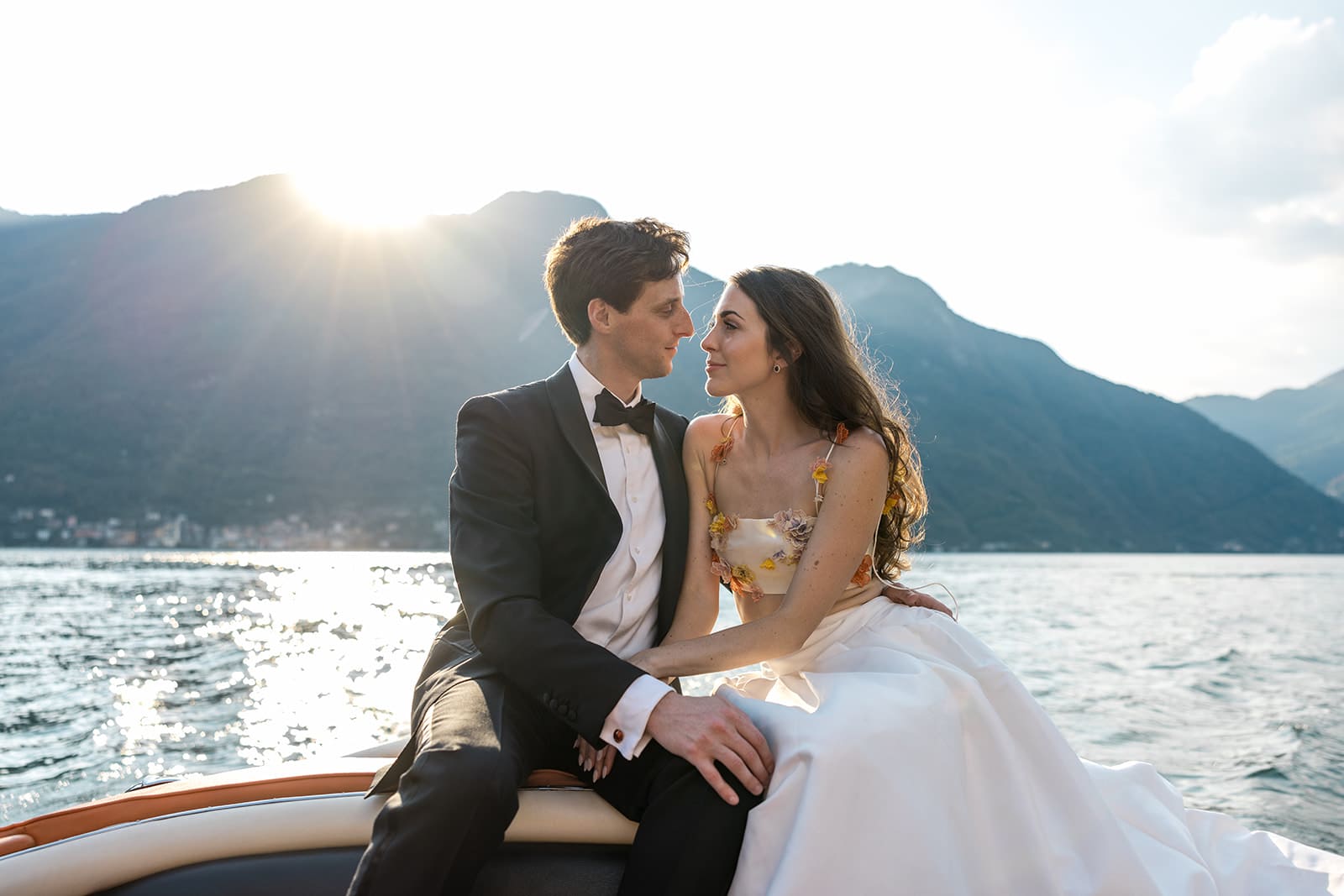 Are you ready to start planning your upcoming visit to Italy?
Check out our other Italy guides on our blog!