As a former fashion photographer (turned wedding photographer!), you know I love incredible fashion on any wedding day. While I always love to talk about bridal fashion to help you get inspired, there's another side of wedding day attire that we still have to discuss: the groom's outfit.
Planning the groom's outfit for this momentous occasion takes serious thought, considering you want to look amazing while also feeling amazing throughout the day. There are several things to consider when choosing the groom's attire, and there are infinite ways to create an impeccable outfit.
So, I've rounded up my favorite groom's wedding attire ideas based on the many grooms I've photographed throughout the years. Keep reading to get inspired for your outfit:
Groom Wedding Attire Ideas by Color:
One of the first things couples look for when choosing the groom's wedding outfit is the color.
The color of your suit or tuxedo completely depends on your preferences. But I suggest doing a few things when thinking about the color of your outfit:
What is the color palette for the entire day? What will coordinate with it?
Where is the wedding being held? Will there be any color clashes between the outfit and the location?
What colors compliment your features? Which colors look "great" on you?
What is your style preference? Do you gravitate toward more traditional looks? Or are you comfortable with being bold in your color choices?
No matter your answers to those questions, I've gathered up groom outfit ideas based on the most traditional and commonly seen suit and tuxedo color combinations. Get ready to get inspired!
Gray Suit and Tuxedo Ideas:
There are so many different shades of gray to choose from, if you're heading in that direction. The great news is that a gray suit or tux is incredibly versatile – they'll fit right in with almost any wedding theme, aesthetic, or color scheme.
For warm, summery or springtime weddings, opt for a lighter gray suit color in your groom's outfit. That will balance with the brighter colors of a warmer-season wedding. Plus, it'll keep you cooler, too!
If you're thinking of a fall or winter wedding, a darker gray, such as medium gray or even charcoal, will coincide with the warmer autumn colors. Plus, a darker gray is a fantastic choice for more formal weddings (think evening ones!).
Choosing a gray suit also gives you room to get creative or unique with your groom's accessories. For example, if you want to add a splash of color to shake things up, then think about adding a colorful bowtie to your gray groom's suit or tux.
Black Suit and Tuxedo Ideas:
Ah, the black suit and tuxedo. It's the classic groom's wedding attire! And for a reason. The color combination between a black suit or tux and a white shirt is so sharp and stoic.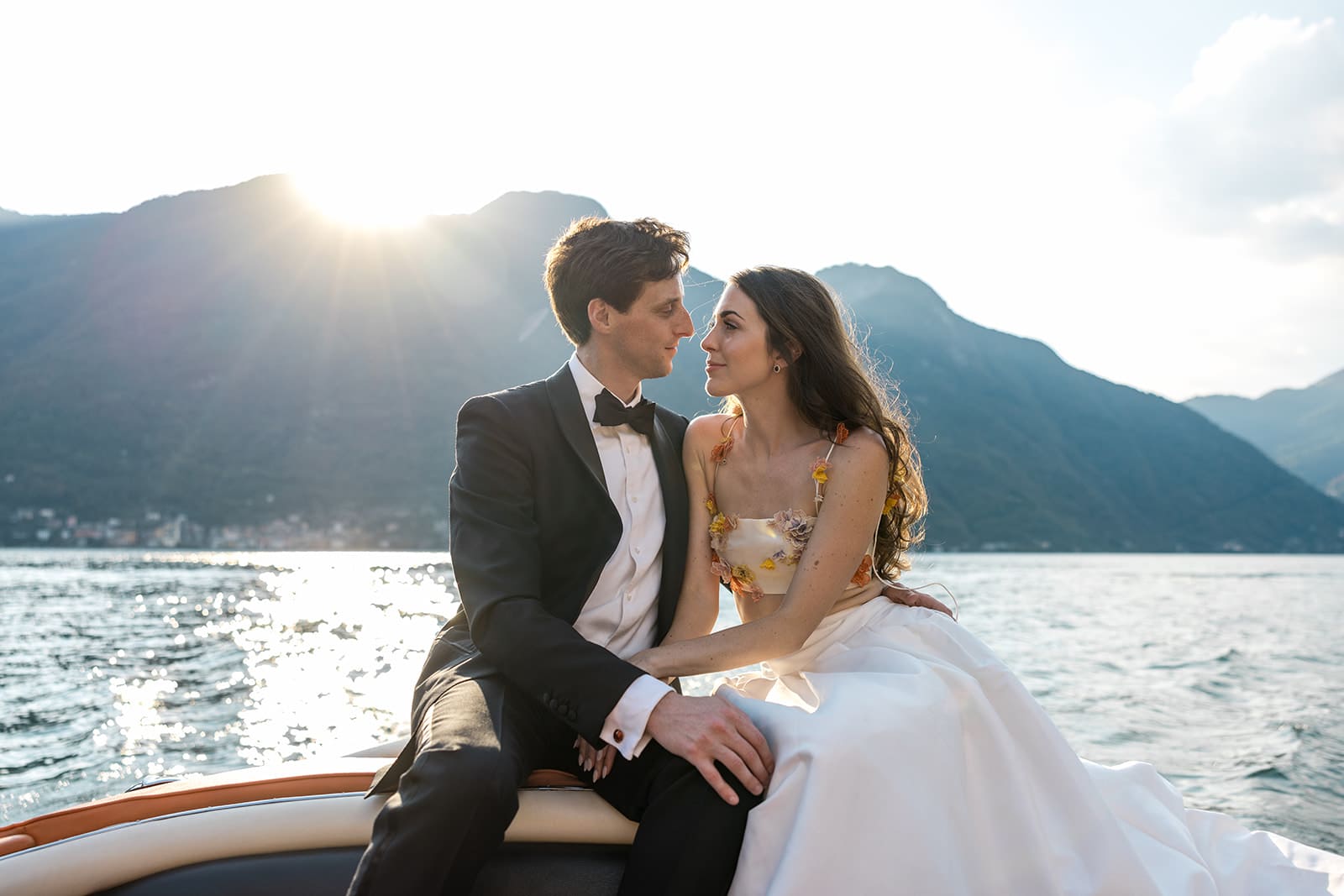 Instantly Elevate the Feel of Your Wedding Day:
Opting for a black suit or tuxedo is the ultimate way to instantly elevate the feel of your wedding day. If you're looking to create a luxurious, formal affair, then choosing this type of groom's outfit is one of your best options.
Choose Timeless, Then Add Accessories:
If you're not into what's trendy at all, and if you want something that is forever timeless, then a black suit or tux is the way to go. No matter how many years pass, you'll look back at your photos and think, "Wow. This was such a perfect, classic look!"
Be wary, though! Black suits and tuxedos tend to leave a little less room for your unique style to shine. That's because … well, there's little that's changed between one black tux to the next.
So if you're looking for ways to spruce up a black tux or suit, think of accessories to add to it. Find unique cufflinks or even personalize yours to add a touch of flair. Opt for a more colorful boutonniere to give the outfit a dash of color. Even finding different styles of suits is a great way to add your personal touch.
Blue Suit and Tuxedo Ideas:
A blue suit or tuxedo can fit into almost any type of wedding. I, for one, absolutely love the style because of what it can do for the rest of the colors in your groom's outfit and even throughout the wedding.
While a black tux or suit looks formal and sharp, that dark color can suck in the colors around it.
Blue on the other hand can still be a deep color (giving you that drama, if you need it!), while still jazzing up the other colors around it.

So while a blue or navy suit with a standard white shirt and blue tie will look great, you still have the option of adding more creativity to your groom's outfit!
Make a Fashion Statement:
Think of a bold fashion statement, such as a blue suit with a burgundy button-up shirt like in this lavish Castello la Leccia wedding anniversary.
Choose a Gentle Pop of Color:
If you don't want too much of a bold statement, then consider a blue or navy suit with a colorful tie. For example, the groom in this Amangiri destination wedding chose a brighter blue with a complimentary purple tie and pocket square.
Get the Best of Both Worlds with This Groom's Attire Idea:
And if you need a little bit of the best of both worlds (i.e. a bold fashion statement that doesn't feel too bold), then take a page out of the groom's book from this Woodsy-Chic Glen Oaks Big Sur wedding.
The groom chose a muted navy suit and paired it with a red, patterned tie. Not only did the tie compliment the bride's bouquet (which also featured pops of red and burgundy), but it spruced up the look of his suit. The contrast between the red and blue worked as the fashion statement, but keeping it to just a tie (instead of an entire ensemble) dialed down the drama.
Tan Suit and Tuxedo Ideas:
If you're planning on a summertime wedding or you're heading to a warm destination wedding (such as this Mykonos wedding), then one of the best things you can do is consider a tan suit or tuxedo.
The light colors will reflect that warm summer sun, keeping you nice and cool (AKA – comfortable, all day long!). It's a perfect option if you're having a daytime wedding ceremony. That midday sun won't leave you feeling overheated.
Plus the warmth of your wedding day will be perfectly complemented by the warm color palette of a tan suit or tux.
Tan Suits or Tuxedos Don't Have to Mean "Casual"
Don't be fooled into thinking that a tan suit doesn't equate to a "formal wedding." From the looks of this Villa Erba wedding, that's not the case! This bride and groom created an epic, formal affair at the unmatched wedding venue in Lake Como – complete with a handsome tan suit.
As I always tell my couples, don't be afraid to break tradition or rules!
White Suit and Tuxedo Ideas:
If you love the dramatic, formal look of a black tuxedo or suit, but you're afraid it won't pair well with a warm season or a warmer location, then allow me to introduce you to its twin: the white suit or tuxedo option.
It's equally as sharp and classic looking as the black suit or tux counterpart. But it adds a touch more drama and flair, considering it's not quite as popular or common. So if you're trying to find ways to bring your style to the occasion – this is it!
Go for Bold In An All-White Tuxedo:
For a truly bold statement, opt for a full white tuxedo option. Especially if you find one that incorporates black satin pieces, such as the lapels, buttons, and the satin side lining of the trousers, which is a tuxedo staple. Take this intimate vow renewal in Lake Como as inspiration for the look!
Create a Combined Groom's Look with Black and White:
If you don't want to make quite as bold of a statement, but still love the look of a white suit or tuxedo, then do a combination of the classic black paired with the modern white.

For example, this destination wedding in Tuscany featured a groom sporting a white suit jacket paired with black trousers. It created a fresh look without feeling overbearing.
Groom Wedding Attire Ideas by Style:
Whether you've chosen what colors you want for your groom's outfit, or you want to start with style first, thinking about your preferences is key to finding the perfect attire.
Classic Groom's Wedding Attire:
If you're drawn to classic, timeless outfits (no trends, whatsoever), then opting for a classic groom's wedding day look is probably your best choice!
When it comes to the classic groom's look, you have your choice of color preferences. Traditionally, colors involve gray, black, or blue.
What determines the "classic" look is the fit of the tuxedo or suit. This classic fit is tailored to your body, however it's not tight or form-fitting (more on that in a minute).
Modern Groom's Wedding Attire:
On the other hand, if you like the look of the "classics," but you need that modern flair, then a modern groom's wedding attire might be what you're looking for.
With a modern fit, you'll find that suits and tuxedos are more straight-legged in the trousers and are more form fitting.
Where classic fits hit just below the ankle, the modern groom's wedding tuxedo or suit usually hits just barely above. That's because the modern groom typically pairs the suit or tux with a "just shoes, no socks" look, like in this Calistoga Vineyard wedding.

This is the perfect option if you do love a relatively classic look, but just need to add a hint of fashionably trendy.
Be Subtly Unique:
While we always love a groom's tuxedo or suit that throws all tradition to the side (think bold colors and patterns), there's also room for subtlety when it comes to modern grooms' tuxedos and suits.
Opting for a subtly unique color combination, material, or even shoulder style is a great way to embrace newer designs.
Take, for example, this modern groom's suit from Hadleigh's. He chose a color combination of a white jacket paired with black trousers, instead of the traditional solid black and white shirt.
And on top of that, he took the modern flair to the next level by selecting a subtly unique design in both the material and the shawl collar shoulder style.
All three of those choices created an ensemble that captured the style and mood of both the groom and the wedding day – a modern, luxurious affair.
Bohemian Groom's Wedding Attire:
In the last several years, the bohemian style has taken off in the wedding industry. And when it comes to outfits for the groom, the trend is no exception!
The bohemian style has less to do with the fit of the suit or tux and more to do with color and pattern choices. That's exactly the case with these bohemian groom's wedding attire ideas:
Customize Your Color:
Just like I encourage my brides to step out of the box and find an outfit that breaks tradition (if that's what they want in their wedding gown, of course!), I say the same thing to my grooms.
Don't feel like you have to stick to the traditional colors of black, gray, or blue. If you want to make a statement, then opt for a customized color!
Take this groom as your bohemian groom's wedding attire as inspiration! For his wedding in Wyoming, set at an epic, private air ranch, he chose to embrace his free-spirited nature in his outfit.
He opted for a tweed, burgundy-colored suit that was custom-made by Daniel George. Then, he paired it with a patterned button-up shirt and a boho-inspired, rustic hat to pull the whole look together. It was the perfect groom's outfit that complimented the aesthetic of their celebration.
Embrace Patterns:
Typically, suits and tuxedos are one solid color, sans patterns. Sure, there are the occasional exceptions like pinstripes.
But if you're looking for bohemian groom's wedding outfit ideas, then take this groom's outfit as inspiration.
He and his groomsmen chose southwestern, boho-chic looks for their suits. They had incredible southwestern designs on the jackets and down the seams of the pants. It was an awesome, unique flair that added to the aesthetic of the wedding.
Groom Wedding Attire Ideas by Destination:
Sometimes, selecting your groom's outfit works best if you can coordinate with the destination location of your wedding.
What a groom might wear to a tropical beach wedding is probably different than what one would wear to a wedding in the heart of a city.
Here are my favorite groom wedding attire ideas based on specific settings:
Ideas for Beach Wedding Clothes for Groom:
When it comes to beach weddings, comfort is going to be a factor in your wedding attire decision-making.
After all, beaches are notorious for their hot, humid weather. And as we know, suits and tuxedos are synonymous with long sleeves and trousers.

So to make sure your suit or tuxedo both fits the aesthetic of the location and provides comfort, it's a good idea to focus on color.
Choose Brighter Colors:
Choosing an all-black, dark navy, or gray suit for a beachfront wedding can feel a tad out of place. With the hot weather, bright skies, and crisp blue waters, you'll want something that provides contrast!
Not to mention, those darker colors absorb all the sunlight and can leave you hot and uncomfortable.
If you're looking for beach wedding tuxedo ideas or suit ideas, then I always recommend choosing lighter, reflective colors!
This is a great time to consider a white tuxedo or suit. Or you can even opt for a white tuxedo or suit jacket paired with black or darker trousers. That bright white will pair perfectly with the sandy beachfront setting. And you'll feel better all day, too!
Or if you're wanting to step out of the box further, consider a tuxedo or suit like this groom's from an Anguilla destination wedding.
He chose a dusty pink color that contrasted so well with the dusky blue of the ocean and the greens of the tropical foliage.
Ideas for City Wedding Clothes for Groom:
A wedding in the city is a much different location than a tropical beach setting. Most cities are filled with concrete buildings, which equals gray.
If you're planning a wedding (and subsequent photos!) in the city, the last thing you want is to choose a groom's outfit that will have you blending in instead of standing out.
Take this groom's outfit as inspiration from his elopement in London. Rather than selecting a lighter suit or tuxedo that would be hard for him to stand out among the concrete buildings, he opted for a darker shade.
That provided the exact contrast needed to create a dramatic, eye-catching effect in their photos! Especially when paired with her bridal white outfits.
Ideas for Desert Wedding Clothes for Groom:
Similar to a beach setting, a desert wedding often means heat. You'll want to dress appropriately to make sure you don't get uncomfortable as the day goes on.
But you'll also want to choose something that compliments the muted desert landscape.
Take, for example, this groom's desert wedding clothes at their Amangiri wedding. The tweed, darker tan suit complimented the desert landscape of Canyon Point, Utah. He paired it with a white button-up shirt that added that pop of color, as well.
And possibly my favorite part, the dark tan suit stood out incredibly among the soft, dreamy lights of the setting sun behind them!
Brides aren't the only ones who get to focus on fashion on the wedding day! The groom's choice of wedding day attire is equally important. So be sure to consider things like, the color you want to wear, where your wedding will be, and the aesthetic of your wedding. Then use these ideas from real grooms as your wedding attire inspiration!
Looking for other wedding day guides?
Find them on the blog!