Two sides of me have shaped me into the photographer I am today. I am a wedding photographer. Before that, I focused on fashion photography.
And while they are two completely separate industries, I find that one side of me influences the other, and vice versa. The two interconnect so well that they have both driven me toward perfecting my unique photography style.
As a wedding photographer, I am always watching for candid moments that carry so much emotion. But my career as a fashion photographer helps me guide couples into striking a magnetic pose that you can't look away from!
I use both sides of me as a photographer to capture weddings in a way that's unlike any other.
But my heart still beats for editorial sessions, which is why I work with amazing teams of vendors to curate them! I use these editorial sessions as a way to draw creativity from the fashion photography world and reignite my passion for the art overall.
Designing the Luxury Bridal Robe Editorial Photography Session:
For this editorial session, I partnered with some wonderful artists to showcase a luxury bridal robe.
I wanted to use this opportunity to rekindle my love for fashion photography while continuing to perfect my craft of portraiture, which is so important for wedding days.
The Luxury Bridal Robe and Incredible Bridal Model
On a wedding day, the detailed photos of the bride and her bridesmaids getting ready help tell the story of the entire day.
And for so many brides, that part of the day is an opportunity to indulge in more couture! Choosing a "getting ready" robe is a way brides can make their day even more memorable.
So, for this editorial session, I chose to showcase a stunning, lilac-colored luxury bridal robe. With a long, dramatic train, sheer tulle fabric, and layer upon layer of ruffles, it was completely enchanting.
And to help me truly highlight what it would look like for a bride, I worked with an incredible bridal model. Stephanie, whose San Francisco engagement photos and Calistoga vineyard estate wedding I photographed, dressed in this immaculate bridal robe.
Pulling Inspiration from the World Around Me
Ever since I was a young girl, I have had a love for horses. I learned how to ride when I was small, and for the last several decades I have been training off and on.
So for as long as I can remember, I have always been inspired by them! They are such majestic creatures, and they complement couture and luxury fashion so impeccably. That's why many ateliers draw inspiration from horses, too.
I knew for such a stunning bridal robe that I needed to have something just as striking to complement the editorial session. I went with my natural inspiration and curated the session to incorporate some of my favorite animals.
The Editorial Session Location: Kilham Farm in Nicasio Valley
My team of artists and I made the drive to Nicasio Valley where Kilham Farm was located. Framed by rolling hills, whispering creeks, and sandy arenas, it made for the best location for this editorial session.
They graciously allowed me to use one of their horses for the photos, and they couldn't have turned out any more stunning!
Adding More Elegance with Fresh Floral Designs
I knew I needed to create some cohesion between the luxury bridal robe, the model, and the horse. So I worked with a floral designer to create a flower crown for the bride and an arrangement for the horse.
The addition of the flowers made the entire editorial session more elegant and harmonious!
Editorial sessions are a perfect opportunity for me to revisit both sides of me that make my work so unique. Creating editorial sessions like these lets me play with photography, so it always stays less of a "job" and more of an art form!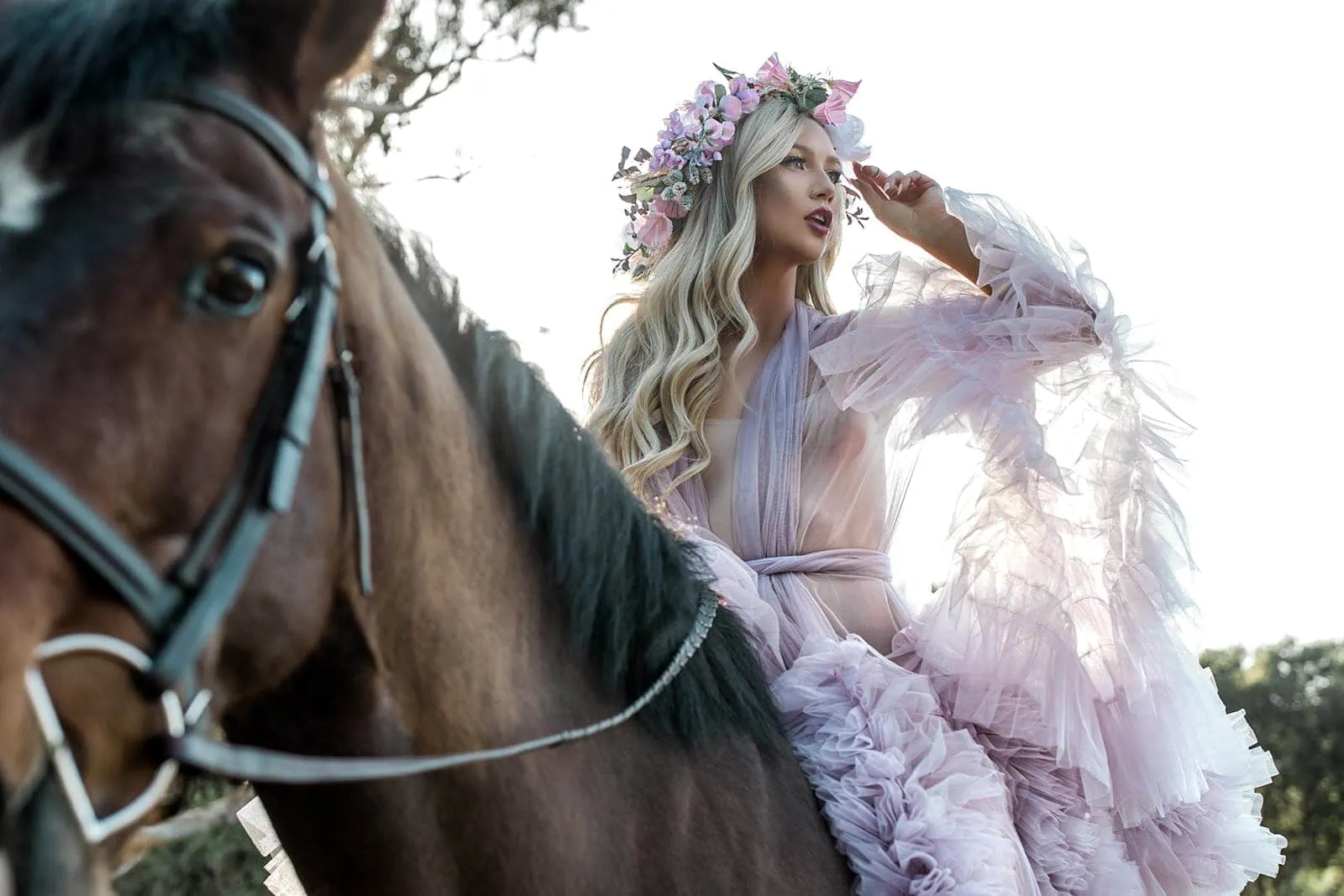 Editorial Session Vendors:
Photographer: Lilly Red
Venue: Kilham Farm
Floral Designer: Barefoot Florals
Robe: Olivia's Gown Rentals
Model: Stephanie Danielle
Hair & Makeup Artist: Michaela at M. Styling