It's an age-old experience. You want to visit a new place, especially outside of your own country. But when finding that destination, you might find yourself stuck on what to do, where to eat, and where to stay.
And the last thing you want? Is tourist trap after tourist trap during your experience.
I know that exact feeling. And as a local wedding photographer in Lake Como, I'm here to make sure it doesn't happen to you when you visit this magical place! So here, you'll find the best Lake Como travel guide – straight from a local.
I'm sharing all kinds of tips so you can have an immersive experience of la bella vita – the beautiful life in Italy!
What is Lake Como?
Just as it sounds, Lake Como is a body of water in northern Italy. But where it may be different from what you're used to, the lake is surrounded by tall mountain peaks that create the most beautiful scenery.
Don't be fooled by the idea of Lake Como. It's one of the largest lakes in all of Europe. Instead of one town "on Lake Como," there are multiple towns and cities nestled right among the mountains and the lake shore.
And just like throughout all of Italy, you'll find rich history and vibrant culture, made up of Renaissance art and architecture at every turn. And have I mentioned authentic Italian cuisine? Get ready because you'll never think of "Italian food" the same way again!
Where is Lake Como Located?
Lake Como is a place in Northern Italy, in the Lombardy region, right at the foothills of the Italian Alps. It's a picturesque location, filled with beautiful, dramatic mountains that topple down to the pristine blue waters of the lake.

The Lake Como area is a short drive (only about an hour and a half) from Milan to the heart of Lake Como, making it one of the best destinations in all of the country. It's an even shorter drive from Milan to the city of Como at only about 40 minutes.
Is Lake Como Worth Visiting?
Since I'm local to Lake Como, I may be a little biased when it comes to deciding whether or not Lake Como is worth visiting. I'll always say yes! And it is popular for a reason.
But in the spirit of being your Lake Como travel guide, I want to make sure I give you an unbiased opinion.
Whether or not Lake Como is worth visiting depends on what you're looking for in a destination trip.
The Best Parts of Lake Como
If you're looking for a peaceful place to relax, you'll find it in any one of the villages around the Lake. Between the serene waters and the majestic mountains, a trip to the area is going to give you plenty of picturesque views.
If you love to experience all that nature has to offer, then it's a must-see location. Because of its location, it's an excellent place to go hiking. There are so many different trails to experience and explore.
But even if the outdoors isn't your "go-to," you can't go wrong with the many villas that are steeped in Italian history and culture. From smaller, quaint villas, such as Villa Evelina, to extravagant ones that hosted royalty and nobility (like Villa Sola Cabiati) there are so many to discover.
Some of my favorite villas around Lake Como include:
What to Consider Before Visiting Lake Como:
Before you travel to Lake Como, you need to keep in mind how large Italy is. There are so many incredible destinations to see – from the Amalfi Coast to Puglia.
So before you add Lake Como to your itinerary, you need to double-check where else you're headed. If you're already going to Milan and have an extra day or two, then Lake Como is definitely a stop to make!
But if you're visiting Sicily or even the Amalfi Coast, you'll need to plan appropriately. You'll either need to fly from Sicily or plan to make the 16-hour drive. And even the Amalfi Coast is a 9-hour drive to Lake Como.
While I always think this area is worth the trip, you'll have to make sure you have the right itinerary to account for additional travel time.
What to Visit For:
There are all kinds of reasons to visit! And this Lake Como travel guide will help you plan and prepare for a trip to the area, no matter the reason for your visit. But the best part? You don't have to have any particular reason to visit the area. It's worth it to stay for a few days, no matter why you're in Italy.
However, I've seen people visit Lake Como for:
1. Engagements and Proposals
While many people decide to elope to Lake Como or plan an entire wedding here, some would rather visit before the wedding day.
This area makes for the perfect backdrop to celebrate an engagement or propose in the first place. From the majestic mountains to the historic buildings and towns, your proposal story will be unlike any other!
And as a local photographer, I've had the opportunity to help many couples plan their proposals. I'll help you choose the best location for the question and even guide you through booking the best photo opportunities such as a boat tour on Lake Como.
The best part? After the proposal, we can all head out to any one of the many towns surrounding the lake for the perfect Lake Como engagement photos!

Ready to plan your proposal in Lake Como? Get in touch with me here!
2. Weddings and Elopements
Of course, I still get excited when couples reach out about Lake Como wedding photography experiences. This area is so romantic that it always makes for the most epic settings for any wedding or elopement.
And as a local, I love helping my couples decide on the best wedding villas and venues for their day. Whether they want something intimate or something grand, there is a wedding venue for them.

So if you're planning a luxurious wedding, or if you're wanting to elope in Italy, consider Lake Como as the primary spot.
3. Travel and Tourism
I firmly believe that you don't need any special reason to travel to the area. So if you're planning a vacation to Italy to experience all that this beautiful country has to offer, then consider adding Lake Como to the list.
What is the Best Time of Year to Visit, From Your Lake Como Travel Guide:
Whether you're planning something huge like a Lake Como wedding or you're planning a dream vacation to Italy, you'll want to know the weather and tourism patterns so you can choose the best time of year to visit.
Here's an overview of what you can expect throughout the major seasons:
Spring:
Spring in Lake Como is gorgeous! The fresh flowers start blooming everywhere, and the hustle and bustle of the towns start to come back as everyone enjoys the warmer weather.
You'll find that there are still fewer crowds in the spring, too! So if you prefer places without many people, then spring is the best time of year to visit Lake Como.
Summer:
The majority of the summer is still one of the best times of year to visit Lake Como. I say the majority because there are some times of the summer you'll want to avoid!
For the most part, especially at the beginning of summer (right after spring!), you'll experience beautifully warm temperatures. That makes things like exploring the many towns, hiking the trails around the mountains, relaxing on the beaches, and even taking boat rides in Lake Como so much more enjoyable.
Later in the summer, it starts to get very hot. So keep that in mind as you're planning your trip! If you don't love hot weather, then it's best to choose another season (or at least plan for earlier in the summer).
Summer is also the peak of the tourism season. So if you don't love large crowds, then you'll probably want to plan for a different season.
But you'll want to avoid visiting Lake Como in August altogether. Unlike in the USA, where everyone has paid time off work that they can use whenever, Italians get the same dates off. In August, most local Italians take holidays to the seaside. And Lake Como becomes completely deserted.
Fall:
Fall, between September to early November, is another potentially great time to travel to Lake Como. The heat of summer starts to fade, and the crowds die back down as schools pick up in countries around the world.
Just like in spring, the weather is pretty good in the fall. But you can expect more rain during these months! So if that's a dealbreaker, then I'd suggest traveling to the area in late spring and early summer.
You will get to see some beautiful changes in the colors of the foliage! And for a lot of people, that makes traveling in the fall worth it.
Winter:
Lake Como in November through mid-April is considered our slowest season. It stays rainy and overcast most days during these winter months. And tourism slows down, which means that many hotels and restaurants close down during these months.
While it's still beautiful, I'd say winter might be the least favorable time to visit Lake Como.
What are the Best Towns to Visit in Lake Como:
As I mentioned earlier, Lake Como isn't one single town in Italy. The whole area is made up of many small towns and villages that are nestled right between the foothills of the mountains and the shore of the lake.
There are actually around 44 towns that you can visit in the area. But for most, that's too many to see within the amount of time they're here. So, as part of your Lake Como travel guide from a local, here are a few of my favorite towns to visit:
Cernobbio
Just north of the popular destination of Como sits Cernobbio. It's a perfect "hub" while you're staying in the Lake Como region because of how close it is to Como and other cities, like Argegno and Tremezzina.
And it has to be one of my favorite cities in all of the area because of how beautiful and picturesque it is. Not to mention, it's home to some of the best villas, like Villa Erba, Villa d'Este, and Villa Pizzo.
One of the best ways to catch a glimpse of them all is by taking a boat tour of the Lake. Not only is it a quintessentially Italian way of travel, but you'll get to experience how incredible Lake Como is from the water, instead of just on the shoreside.
Torno
Another close by city to Como is Torno. It's a great place to stay because of its own ferry that connects it to other towns, so you'll be able to explore various cities along the lake!
I love Torno because of how quiet and peaceful it is. Some of the other cities are more popular among tourists and visitors, making them a bustling city. But if you're looking for something off the beaten path, then you can't go wrong with this beautiful town.
While you're staying in Torno, spend time walking through the streets and alleyways and soak in the rich architecture that often dates back to the 16th century.
Explore the walking trails that take you up the hillside and enjoy the incredible views of the lake and the town below. And after, you can head down to the port — Piazza Casartelli — and have a drink or something to eat at one of the restaurants there.
Lenno
If you're looking for a place to stay where luxury meets tranquility, then Lenno is the city you'll want to experience.
Another "hidden gem," it also draws fewer crowds than some of the larger, more popular destinations. But Lenno has the privilege of being nestled on the coastal stretch of Tremezzina. It's an area of the lake that is home to rich foliage and serene waters of the lake.
You'll have epic views of the mountains that sweep down to the lake and views of other cities, like Bellagio. Take a walk and soak it in, or enjoy an aperitivo at one of the restaurants on the waterfront.
One of the best parts of staying in Lenno is the magnificent villa – Villa del Balbianello. It's the epitome of luxury, with its magical gardens and historic structures.
Laglio
Want a city along Lake Como full of romance? You'll want to experience Laglio, then! From hilly slopes of vineyards and olive trees to colorful villas, Laglio paints the classic Italian picture you're looking for.
The old world charm of historic architecture has drawn visitors from around the world for decades. Even George Clooney has his own villa nearby.
Add a little bit of adventure to your romantic getaway by exploring the nature trails that climb up the mountainside. You'll see plenty of wildlife like hawks and falcons. You can even hike to the cavern, Grotta dell'Orso, where you might find fossils of an old bear.
Afterwards, you can walk around the waterfront promenade to take in the incredible scenery of the lake and the mountainscapes behind it.
Sala Comacina
Along the Tremezzina, there's the small village of Sala Comacina. It has one of the best positions in all of the area because it overlooks the only island in all of Lake Como — Isola Comacina.
The village of Sala Comacina looks as if it were preserved in time, with it's charming stone streets, small Romanesque bridges, romantic balconies, and stone facades on the townhomes.
Take a boat out to tour the island, and then have dinner on the waterfront at Locanda La Tirlinda.
Argegno
If you're chasing the authentic Italian experience, then I couldn't recommend Argegno more. It has a peaceful and welcoming atmosphere so you'll feel right at home the moment you arrive.
Argegno is a very small village along the coast of the lake, with only about 650 residents living here. But you'll find all of the old-world charm you're looking for in this small town, with cobblestone streets and alleyways and a central square, Piazza Roma.
While many of the other towns, like Como, Bellagio, and Varenna, have plenty of shopping and places to eat, Argegno doesn't offer much amenities. But you're a short boat ride away from all of those livelier places. And when you stay here, you'll come back to a tranquil, classically Italian home away from the tourists.
That's not to say there isn't anything to do in Argegno! There are still some amazing restaurants for a genuine Italian meal, such as La P'Osteria. Or enjoy aperitivo at Caffe Colombo right in the main square.
And for some of the best views in all of Lake Como, take the cable car up to a terrace at the foot of the Italian Alps.
Como
Como is one of the most popular destinations in the Lake Como area. It's a short and simple train ride away from Milan, which makes it the perfect place if you're only in town for a few days.
It's the largest city out of all of the towns throughout the area. You'll find plenty of shopping, including so many keepsakes from local Italian craftsmen. And the history here is just as rich as anywhere else in Italy. You can explore museums, historic churches, theaters, and even manicured gardens filled with native foliage.
Varenna
Located a little further away from Milan sits Varenna. It's conveniently surrounded by the Lake Como ferries, which makes it a perfect place to stay if you're in the area for 3 or 4 days. You can easily hop on one of the ferries and visit any number of the surrounding towns, like Lecco and Tremezzina.
And while you're in Varenna, be sure to visit some of the amazing restaurants. Get a taste of la bella vita by enjoying a quintessential aperitivo on the outdoor terrace at these restaurants.
Bellagio
And a favorite of just about anyone who travels to Lake Como is Bellagio. It's located right on the tip of a peninsula and is home to historic cobblestone streets and local artisans selling keepsakes. It's the perfect place to explore and get lost in the culture and vibrancy of the city streets!
If you visit during the warmer months, Bellagio has Lido de Bellagio, where you can relax by the water or take a swim in Lake Como.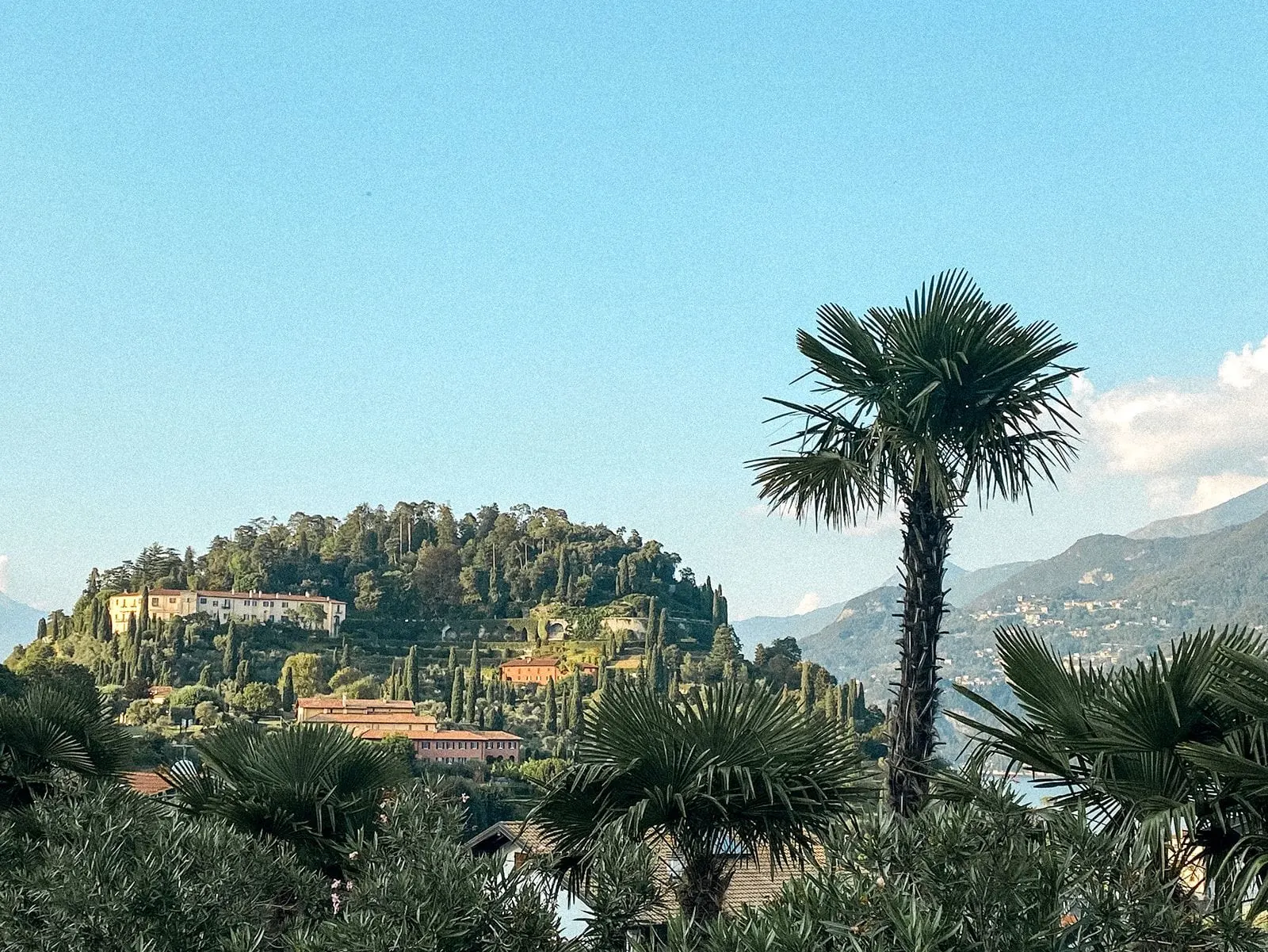 How Many Days is Enough, According to Your Lake Como Travel Guide:
Determining how many days is enough in Lake Como depends on the kind of trip you're wanting to have and planning.
If you're visiting Italy and want to make as many stops to experience as much as possible, then 2 days in Lake Como is probably the best. There is so much to see and experience, and there are so many differences between the towns that you'll want to see more than one. Planning 2 days is the best way to do that.
If you're traveling to Italy, but you're only planning on making a few stops in the country, I'd suggest 3-4 days here in Lake Como. That will give you time to visit a few different towns and experience a couple of the most unique things to do in the area.
And if you're traveling to Lake Como for a destination wedding or an elopement, I'd suggest 5-7 days. That way, you can have time for the wedding celebration and enough time to soak in the culture and la bella vita afterward! Planning for that amount of time will create the most unforgettable experience for you and your partner.
How to Get Around When Visiting Lake Como?
A Lake Como travel guide wouldn't be complete without the best information on transportation. When it comes to arriving in Lake Como, it depends on where you're traveling from. One of the easiest ways to get to Lake Como is via train if you're flying into Milan.
Once you're in Lake Como, the area has plenty of local transportation to help you. My favorite way has to be via boat service! Who doesn't want to experience being on the water of Lake Como while traveling from town to town?
There are also trains to take you from town to town, depending on where you're staying. For example, if you're staying in Varenna, you can take a train to Lecco and visit some of the local wineries.
If you're wanting to experience the area by driving, your best option is to rent a car. Taxis are known to be super expensive and unreliable here, and Ubers aren't permitted, either.
But if you do plan to rent a car, be sure you plan your parking ahead of time! Parking can be a frustrating experience since it's limited throughout these towns. You can hire a transportation company to move you from place to place, but that will require more pre-planning.
Otherwise, the best way to get around Lake Como is by foot or ferry.
What Else to Know When Planning a Trip to Lake Como:
When you know the basics of your trip to Lake Como, such as how long you should plan to stay and how to get around, then you can start determining some of the more exciting parts of your trip.
From finding the best places to stay in the area to choosing the restaurants so you can experience life in Lake Como like a local, there are so many things to consider. But that's why you have me – your Lake Como travel guide! Here are some tips to help you plan your experience:
Where to Stay in the Area
Out of 44 towns surrounding the lake, there are so many different places to stay. Luckily, I've ventured out to a lot of them. And I'm telling you which ones are my absolute favorite.
If you want the quintessential Italian history combined with today's modern world, then Palazzo Albricci Peregrini in Como is perfect for you.
And if you're looking for something modern and luxurious? Then you'll find it at Grand Hotel Tremezzo or Il Sereno.
Best Places to Eat Like a Local
If there's just one thing that Italy is known for, it has to be the delicious food. And Lake Como is no exception! There are plenty of restaurants to try out for each course of the day. From high-end cuisine to the best spots for local pizza or gelato, I've tried plenty of them so you know where to add to your Lake Como itinerary.
And don't worry! This Lake Como travel guide does not include any tourist traps.
First on my list is Ristorante InTeatro. It has a wide variety of authentic pizzas with plenty of gluten-free options, too. And it's in the heart of Como, so you'll get to experience the lively culture of the city as you dine.

And of course, if you're in Italy, you have to try the true gelato. Gelab in Como is the perfect spot after a hearty meal!
Unique Things to Do in the Area
You can't spend all day in your hotel or at a restaurant. Well, you can, but where's the fun in that? If you're in Lake Como, you need to plan on getting out and about and taking in the scenery the area has to offer!
While there are many bucket lists out there, as your Lake Como travel guide, I'm bringing you a list of unique things to do to live like a local.
One of the best things? Opting for a Lake Como boat tour. Whether it's on one of Lake Com's ferries or it's by taking a Riva out on the water, you can't leave here without experiencing Lago di Como for yourself.
And opposite to the lake, why not explore more of nature by hiking through the San Primo and Rifugio Menaggio mountains? You'll get a one-of-a-kind view of the Lake from the top of these trails!
No matter the reason for coming to Lake Como, whether it's just to visit or it's for your destination wedding, this area is truly remarkable. It's the perfect way to embrace all that Italy has to offer, from the beauty of nature, to the rich Italian history, art, and culture.
And Vic and I are excited to be your Lake Como travel guides to help you have an authentic experience!